A 'mountainous' accomplishment earned Wilkins Media of East Hartford, CT a 2017 Bronze Obie Award for Custom Installation.  Wilkins Media installed the tallest ever outdoor climbing wall built in New York City – right in the middle of Times Square.
The Toyota RAV4 Spectacular Billboard Climb featured a multi-story rock climbing experience, complete with live rock climbers, installed over the steel framing of two stacked billboards.
Patricia Turosz, VP, Client Partnerships & Experiential at Wilkins Media, stated:  "With Saatchi and Saatchi of Los Angeles, we brought this inspiring activation to life.  Earning industry recognition in a competitive category is thrilling for the entire team, but the real gratification came in seeing our elated client witness the amateur climber scale the eight-story wall above cheering crowds in Times Square."
The Obie Awards are one of the oldest and most prestigious honors for creative excellence in advertising.
Wilkins Media is an independent out-of-home media specialist firm serving the nationwide advertising community for more than 50 years.  Wilkins partners with advertising agencies to more efficiently plan and execute out of home campaigns with the goal of speeding up the out-of-home process from proposal to execution. Through a combination of proprietary software, research tools and deep industry insight, Wilkins Media helps agencies and advertisers navigate the ever-changing landscape of out-of-home advertising, creating impactful campaigns and driving growth.
---
Paid Advertisement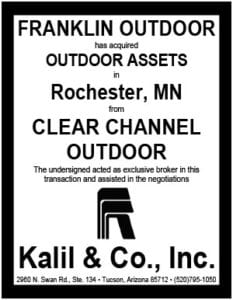 Hits: 3