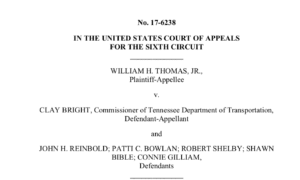 The State of Tennessee wants a federal appeals court to reconsider a recent decision that Tennessee's billboard law is unconstitutional.
Tennessee, via a petition filed September 25, is seeking a review of this important billboard case by the full US Sixth Circuit Court of Appeals (known as an en banc rehearing).
On September 11, a three-judge panel of the Sixth Circuit affirmed a federal trial judge in Memphis who ruled that Tennessee's billboard law is impermissibly "content based" because it treats on-premise and off-premise signs differently.
The name of the case is Thomas v. Clay Bright. Billboard builder William H. Thomas Jr. is the plaintiff, challenging Tennessee's billboard controls on constitutional grounds. Clay Bright is the current commissioner of transportation in Tennessee.
In its petition for rehearing by the full appeals court, the State of Tennessee asserts these arguments:
The regulatory distinction between on-premise and off-premise signs is not based on content
The finding by the three-judge panel of the Sixth Circuit conflicts with another federal appeals circuit court and with Supreme Court precedent
---
Paid Advertisement