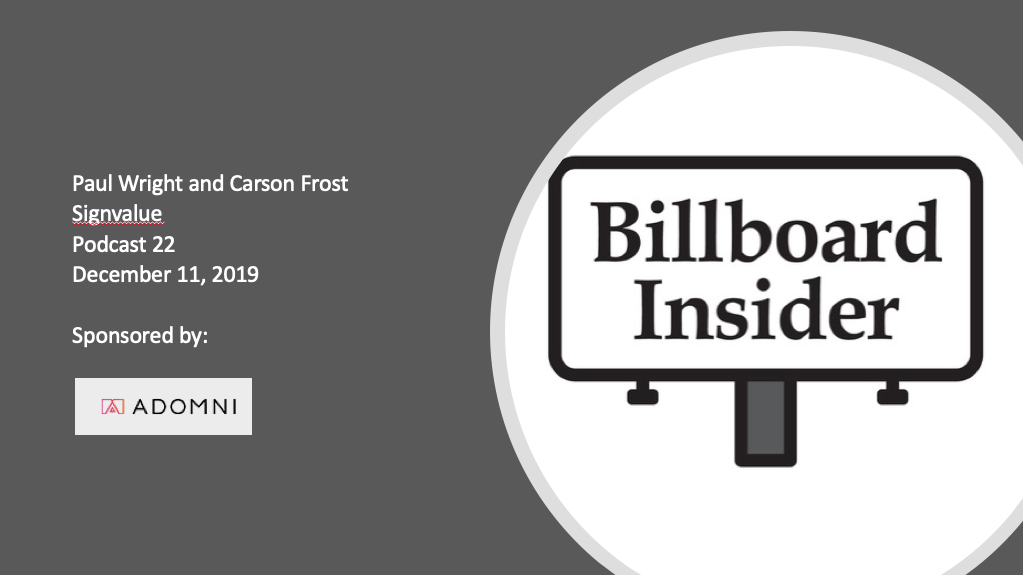 Today's podcast guests – Paul Wright and Carson Frost –  talk about out of home values, who's buying what, how to conduct a smooth sale and trends to look for during 2020. Paul is the founder of SignValue.com and the Co-author of Billboard Appraisal: The Valuation of Off Premise Advertising Signs.  Carson is a sales consultant for SignValue.
Podcast: Play in new window | Download (Duration: 26:01 — 35.9MB)
Subscribe: Apple Podcasts | Android | Google Podcasts | Stitcher | TuneIn | Spotify | RSS
Some highlights.
What trends have you seen in the out of home transactions market during 2019.
2019 has been a very strong market.  I get calls just about every week from buyers who want to know what's available for sale.  What's really interesting about the transactions market this year is that we're not just seeing transactions which are coming from the big three that are buying independents.  We're seeing a lot of independent owners that are also actively looking to grow their footprints.  Some of these independent buyers are trying to break into new markets while others are looking to sell off pieces of their footprint that don't fit and to consolidate and buy in places that will create synergies.
Values have historically been in an 8-12 times cashflow range.  Are we there?
I would say that we're still in that range.  We are probably pushing at the top end of it.  This is a very good time to think about selling.  It's a very good time to think about consolidating a footprint or to get rid of those things that don't fit in your current footprint…We've seen some things in the southeast that are in the lower end of that range.  We've seen some things in the major markets that exceed that range.

On Lamar
We think that Lamar got the best group of assets from Fairway…They came in early…we expect that they may have paid a little more than others and we think that they were the best of what was available.  Lamar has a good company culture.  I listened to your podcast with Sean Reilly.  Their general managers have a long tenure with Lamar and I think that's because of the way the company is run…
Outfront
Outfront has had strong revenue growth recently.  In the past year their revenues have shot up quite a bit and I think that has something to do with their focus on major markets.  There's a lot of movement right now with millennials moving to some of those larger major markets…I would add that Outfront still has some cost-cutting to do.  I think they have some opportunities to look at their expense growth…
Clear Channel Outdoor
We have been in talks with Clear Channel a few times and have noticed that they have been extremely conservative with their spending domestically…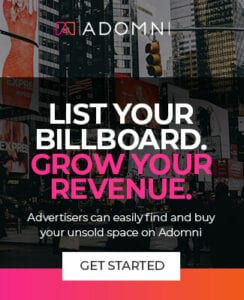 Link Media Outdoor
We have seen a lot of big acquisitions come from Link Media.  I think that they are in the process of digesting some of those large recent acquisitions…because of their quick growth…they have missed out on some perfect opportunities.
Fairway/Adams
They do have one remaining group down in the Southeast.  And we anticipate that moving in the next six months.  In terms of the mix of assets and the way they've been managed we like Adams markets better than the Fairway markets.  That's a good opportunity…
JCDecaux
JCDecaux is predominately transit oriented here in the United States.  They control a number of large airport contracts and I think that's probably the direction they are going to be staying…They are good global citizens and are making a large push to be earth friendly and the make that part of their company culture…I think it's going to take something like Clear Channel selling their assets to make them jump in.
Other companies
We've seen Reagan make the acquisition of some of the Fairway assets.  And we've seen Lindmark making some moves.  There are certainly some independents who are seeking opportunities to grow.
---
Paid Advertisement