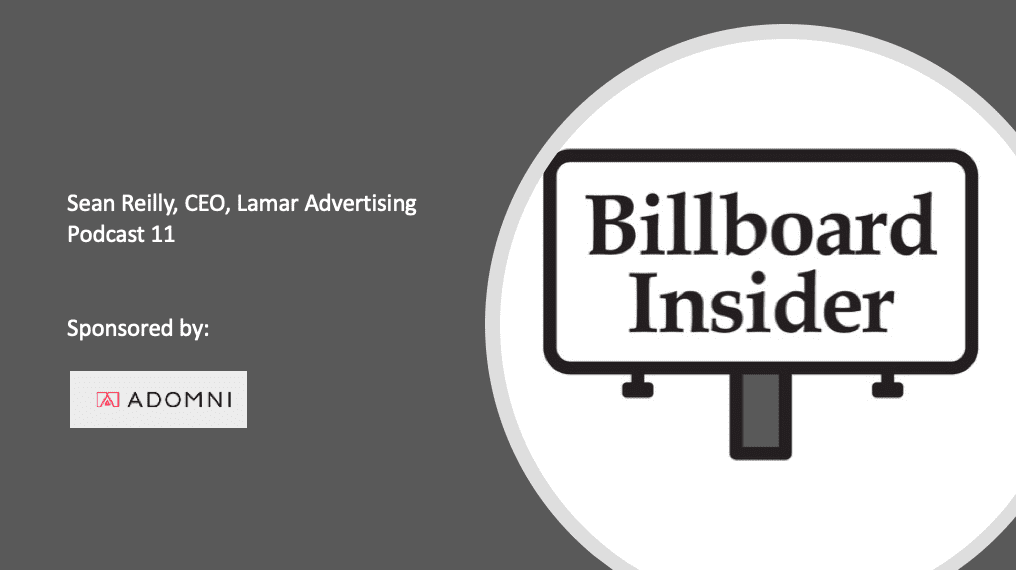 On this week's Billboard Insider podcast Lamar CEO Sean Reilly talks about the search for a new OAAA CEO, Lamar's corporate culture, sustainability, programmatic out of home, Landmark Infrastructure, tariffs and what keeps him awake nights.
Podcast: Play in new window | Download (Duration: 25:59 — 35.8MB)
Subscribe: Apple Podcasts | Android | Google Podcasts | Stitcher | TuneIn | Spotify | RSS
You head the OAAA committee which is searching for a replacement for Nancy Fletcher.  How's the search going?
Let's start with the fact that you can't replace Nancy Fletcher.  She is an incredibly effective face of and voice for the industry for almost three decades.  So tough act to follow…I'm really pleased with the way the search has gone and we have settled on a candidate that I believe will rock the industry…We had a great committee.  We interviewed a half dozen excellent candidates…The candidate we now have on board is something special…We should have an announcement in the next several weeks.
Lamar's regional managers have been with the company for an average of 33 years. 

We have senior leadership that's incredibly well tenured…for most of them, their very first job they ever got was as an account executive with Lamar.  And beyond the regional tier of leadership if you look at our 200 general managers around the country, their average tenure is over 15 years with the company.  So how does that happen?  It starts with a great corporate culture…Number one is the golden rule.  Treat other people like you'd like to be treated…Another thing is we should leave it better than we've found it.  By this I mean the communities we operate in.  We are part and parcel of the communities we operate in.  It's a privilege of us to be part of…that landscape.  We need to give back.  We do that daily, whether it's volunteering or whether it's putting up public service copy…Lamar does almost $150 million/year in public service copy…That leads be people wanting to be part of a company that they know cares…One other thing we do is we rigorously promote from within.  When a position comes open in Lamarland it's going to be filled by somebody within Lamarland….

Lamar's cashflow margin is 10-20% higher then the other public out of home companies. 
There's several things to talk about…first, we run a tight ship, year in and year out our expense growth is kept at or below 2%.  We're well known for that.  So if you have expense growth that you keep below GDP and you grow your top line slightly better than GDP you're going to get margin expansion…We think our margins after everything…corporate EBIDTA…should be approaching 45%…
We compensate our GM's slightly differently than the other companies.  They are treated as complete business people.  They hire, they fire, they turn on the lights, they turn off the lights, they have complete control of their P&L…That philosophy of being flat, decentralized business units…makes a huge difference.
Now we do have some structural advantages.  We have lower ground lease expense because of our middle market focus.  Our ground lease expense runs give or take 20%…That the difference in running outdoor companies in places like Little Rock, Arkansas…versus places like Manhattan. And then we have an advantage in our mix of businesses.  We are more traditional out of home and less transit and airports and those have lower margins to begin with…
On creating a lean company structure
The business school books call it flat, decentralized organization chart.  I like to call it respecting the business judgement that is in the field and creating a corporate infrastructure that services the field…when I walk around our place here in Baton Rouge I constantly remind our corporate folks that at the end of the day if we're not servicing folks in the field – our GM's, our account executives, our production managers, our folks that are hanging vinyl – if we're not helping them get better at their jobs then we don't have a reason to exist…We're not command and control.  When we pick up the phone, when we take a call from a sales manager or a general manager, the first words out of our mouth are "how can I help" not "here's how you do it."
---
Paid Advertisement