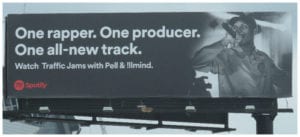 Just when Madison Avenue thought it had Millennials (also known as Gen Y) figured out, brands are now concerning themselves with the habits of Gen Z. Comprised of young people between ages 14-23, the next generation of consumers has grown up in a connected world where access to information is available anytime and all the time. Google it or just ask Siri.
Where Millennials were the first digitally native generation, having grown up with the internet, Gen Z is the first fully mobile generation, having carried or at least used a mobile device that connects them to unlimited information.
OOH's ability to connect with mobile consumers is highlighted in Nielsen's OOH advertising study (actions taken in the past year by consumers age 16+ after exposure to an OOH ad):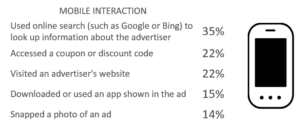 The shifting behaviors between older generations and Gen Z have advertisers and media companies worried. Large TV broadcaster and cable companies are experiencing disruption in viewing habits as Gen Z reaches for mobile devices to view shows and other content, rather than sitting in front of a TV.
This trend has also had an impact on influencers as these younger consumers are more likely to follow social media stars not TV or movie personalities.
Today, Gen Z represents nearly $50 billion in spending power and the size of the group's influence will grow. Already, Gen Z is larger than the Baby Boomers and Millennials in terms of population.
But, there is good news for brands. OOH advertising reaches all consumers when they are on-the-go. From the "Greatest Generation" to the newest generation, OOH is real, authentic, and part of the American fabric.
As revealed in recent research from Nielsen:
Travelers (those who have driven or ridden in a vehicle) age 16-24 and 18-34 are most likely to recall seeing the widest variety of out of home media in the past month
Of the 13 OOH formats analyzed, adults 16-24 and 18-34 over-indexed in past month viewership against the general population 16+ in every format category, except 16-24 in OOH airport viewership
51 percent of adults 18+ surveyed noticed a poster advertisement in the past month.Younger adults were most likely to notice posters. Poster viewership in the past month was highest among people age 18-24 at 61 percent, and age 25-34 at 71 percent
Source: MediaPost, Nielsen
---
Paid Advertisement