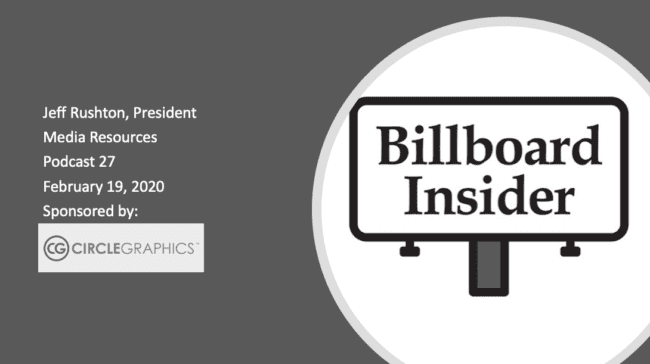 Today's podcast guest is Jeff Rushton, President and Co-Owner of Media Resources, an integrated digital billboard manufacturer, sign installer and large format printing business with operations in Canada the US and Asia.
Podcast: Play in new window | Download (Duration: 24:20 — 33.5MB)
Subscribe: Apple Podcasts | Android | Google Podcasts | Stitcher | TuneIn | Spotify | RSS
Jeff, talk about Media Resources and how it got into the out of home business
Media Resource has been around since 1967…it started as a sign installation business in Canada…now we're in 37 American States and in all Canadian provinces and we've grown over the last 8 years about six-fold.
What are the steps in making a digital billboard.
The first thing begins with engineering.  You have to think through each and every component…if you don't spec the right components…you're not going to survive the effects of solar load and heat moisture on your product. Second is material selection.  You have to get those sub-components from the right suppliers…or you're going to have failures in the field.  Third is module production where you're going to take the LED's and insert them into a keyboard and put them into a module mold that creates a finished module.  Now you move into the assembly process…We assemble the extrusion frame, aluminum face, aluminum doors into a cabinet.  The cabinet is stood up and we put in all the components… After that we do a multi-day testing…before the product is shipped to the customer. For new markets or new customers we send a digital technician who supports the installation process and trains the local technician.
The actual installation…is a pretty simple process.  It's about an hour for a poster or 10.6 x 36 and sub two hours for a 14 x 48.
We do most of the manufacturing in our Toronto facility but I'm excited to announce that in the second half of 2020 we're going to start manufacturing in our Charlotte facility.
What impact have tariffs had on the market?
There's a couple of extra costs for a couple of the sub-components, but generally it's been business as usual in North America…If the US-Mexico-Canada-Agreement didn't get passed that would be a different thing…Hopefully this is becoming less of an issue.
Has the coronavirus had an impact on the market?
Thus far no.  But we think it will….Regardless of who you are there are some components that come from China.  Chinese factories have been shut down for a month now.  They are starting up now…When they're company back to work if there's one person in that factory who ends up getting the coronavirus the entire factory and all the people will be quarantined for 14 days…so you don't know where this goes…
What components of a digital billboard need to be replaced and when.
Ourselves and our North American manufacturing competitors are trying to drive to a higher quality product…With proper selection of components and LED's a 10 year life is not a big deal.  However there are many overseas competitors who are building products with much lower quality LED's, much lower quality components, that can cut that lifetime in half or less…It's going to be the modules and LED's which degrade first…the computer system is another one because you'll have the end of life on the operating system, and then another one is potentially power supplies…
On preventative maintenance.
You can't get away from preventative maintenance.  If you do a great job of preventative maintenance you can extend the life of that display by 1-3 years…if you keep the heat out of that system you'll extend the life…
Light trespass
Our chief engineer Cheng saw this as an issue many years ago…We take a location, we do a light study about what kind of dispersion you're going to have…we sometimes go to the local council meeting…we do a custom module optimized for that location…we've been 100% successful.  There have been some great news stories…
6 trends in the digital billboard market
In North America I see a general movement to a standard module size.  It think that's…a very good thing.
Second…as digital becomes more accepted and moves into urban environments you're going to see a move to what's called surface mount…They have better image quality, better vertical view images, better on the side…Every other market in the world…they've moved to surface mount.
Another trend we're seeing is…more curves and more custom sized displays.
They next one is more transparent products for windows in buildings.  That's big, especially in Asia…The last two weeks we've quoted 18-20 projects – they're big projects – here in North America.
We're also seeing a movement to fine pixel pitch outdoor…Transit shelters generally use LCD televisions…The problem is that heat still is an issue.  So we're seeing sub 2 millimeter outdoor becoming feasible.
And the last thing we're seeing is…indoor coming on strong…Everything from transit to malls to stadiums for the billboard industry.
---
Paid Advertisement