The Wisconsin Supreme Court ruled 4-3 that the City of Madison's construction of a bridge which blocked visibility of a billboard is not a property taking requiring just compensation.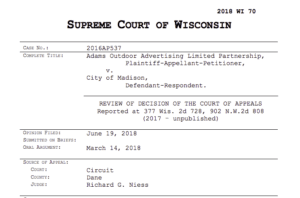 Here's a summary of Adams Outdoor v City of Madison.
 Adams bought a two sided billboard located near the Beltline Highway in Madison for $200,000 in 2007.
The billboard is non-conforming so can't be modified or relocated.
In 2013 the city built a pedestrian and bicycle bypass crossing the Beltline which obstructs the west-facing side of the billboard.
Adams appraiser valued the billboard at $1.46 million before the bridge was erected and $720,000 after the bridge was erected.
Adams filed a complaint asking for just compensation arguing that the City's construction of a bridge deprived Adams of the beneficial uses of its property.  The City argued that there is no property right to visibility of a billboard.
Lower courts ruled in the city's favor and the Supreme Court upheld the decision by a 4-3 ruling arguing "In sum, we conclude that a right to visibility of private property from a public road is not a cognizable right giving rise to a protected property interest."
Insider's take:  Worrisome that a city which has been feuding with Adams could choose to destroy the value of Adams billboards by planting trees or erecting bridges and bikepaths in such a way that the billboards are blocked and their value is destroyed.
---
Paid Advertisement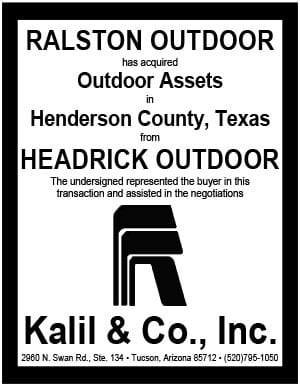 Hits: 0