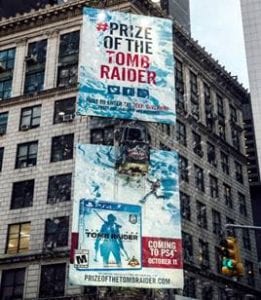 The first billboard with falling "snow" and a real climbing car has just been unveiled in Times Square, New York City, to mark the PS4 release of "Rise of the Tomb Raider" and the 20th anniversary of the popular video game franchise.
Liquid Advertising, the ad agency of record for Square Enix, and Out of Home America Wilkins Media (OOHA/Wilkins Media), the billboard's experiential media producer, have created a 3D billboard at 52nd Street and Broadway, featuring a real Jeep® Wrangler and evaporative, environmentally friendly snow in "blizzard conditions."
"We're all huge Tomb Raider fans at Liquid, so when Square Enix wanted to put together a giveaway to support the big PS4™ launch, we knew we had to create a big, vertigo-inducing outdoor scene to show off the prize Jeep. And it was a chance for us to have a little fun with the New York location, in that the Jeep is in a parking spot that maybe only Lara Croft could possibly get," said Patrick Runco, Vice President, Executive Creative Director of Liquid Advertising.  Game publisher Square Enix is letting consumers enter a sweepstakes via social media to win a 2016 Jeep Wrangler.
"Lara Croft is subjected to extreme weather in the game — wind, rain, snow and ice — and must overcome a great deal to survive," said Patricia Turosz, Vice President, Client Partnerships & Experiential at OOHA/Wilkins Media. "We wanted to bring some elements of the game to life with this billboard in a unique and memorable way.
FDNY and other city officials have greenlighted the Tomb Raider billboard, which will run through November 7. The Jeep Wrangler "climbing" weighs 2,000 pounds (without the engine). The billboard is actually two stacked billboards with a combined height of 64 feet. "Snow" is falling for 3 minutes every 15 minutes through Oct 30. From today through October 9, it will snow nonstop noon-1 p.m.  You can watch a video of the billboard in action here.
The "Rise of the Tomb Raider" PS4 game release date is October 11. The Xbox version of the game was released last November. New York Comic-Con takes place at the Jacob Javits Center in Manhattan Oct. 6-9, many of whose fans will be attracted to the billboard, which will be in Times Square through Oct. 30.
"Lara Croft: Tomb Raider," the film adaptation of the game, was released in 2001 starring Angelina Jolie. A new film based on the game is scheduled for release in March 2018, with a new actress playing Lara Croft.
Liquid Advertising is an independent, full-service creative and media agency in El Segundo, California. OOHA/Wilkins Media is the largest independently owned out-of-home and experiential media agency in the U.S., with offices in New York City, Hartford, Los Angeles, Chicago, Atlanta, Milwaukee and Minneapolis. The billboard is owned by Clear Channel Outdoor Americas.
---
Paid Ad