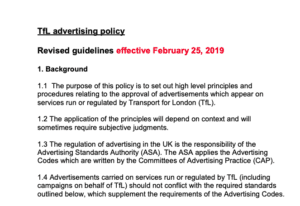 Junk food advertising will be banned on the entire Transport of London network starting February 25, 2019.  The mayor of London says the ban is necessary to tackle child obesity.  The advertising restrictions include the following:
advertisements that directly feature food and/or non-alcoholic drink considered to be high in fat, sugar and salt will not be permitted. Examples of products that would not be accepted are sugary drinks, cheeseburgers, chocolate bars and salted nuts, while unsalted nuts, raisins and sugar-free drinks would be accepted
a requirement for food and drink brands, restaurants, takeaways and ordering services to promote their healthier food and drink instead of just advertising their brand
incidental images, graphical representations and references to food and/or non-alcoholic drinks that promote the consumption of foods high in fat, sugar and salt will not be permitted
advertisements for food and non-alcoholic drink that are considered to be high in fat, salt, sugar may be considered for an exception by TfL if the advertiser can demonstrate, with appropriate evidence, that the product does not contribute to child obesity.
The restrictions will apply across the the London subway, rail, bus and taxi system.
Insider's take:  Welcome to the nanny state.  Let's hope this crazy idea doesn't cross the ocean.  A ban on food which is high in fat, salt or sugar?    Where do you stop?  Do you prohibit advertising for dairy products or cheese or french pastries.  They are full of fat.  Alcohol is full of calories.  Why not outlaw restaurant ads?  The European Journal of Clinical Nutrition has found that diners at full service restaurant consume just as many calories but more cholesterol and sodium than fast-food diners.
---
Paid Advertisement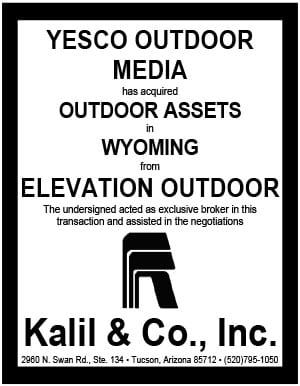 Hits: 0