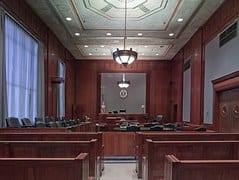 A Maryland appeals court yesterday ruled that a Baltimore City excise tax on billboards does not violate the First Amendment rights of Clear Channel Outdoor, upholding a state tax court decision in favor of the City's Finance Department.
Key components of the ruling include:
EXCISE TAX – FIRST AMENDMENT

An excise tax, imposed on the privilege to charge others a fee to use billboard space, does not implicate the First Amendment.

EXCISE TAX – FIRST AMENDMENT – COMMUNICATIVE ELEMENTS – EXPRESSIVE ELEMENTS

Taxation of a billboard company's economic privilege does not possess sufficient communicative or expressive elements for the First Amendment to come into play.

FIRST AMENDMENT – BILLBOARD DISPLAYS – FEES

Although the advertisements and messages placed on a billboard are entitled to First Amendment protection, a billboard company's privilege to charge fees to display them is not.
This case is one of two taxation cases that Billboard Insider has been tracking.  In 2013, Baltimore imposed a "tax on the privilege of exhibiting outdoor advertising displays" ($15 per square foot for digital displays and $5 per square foot for non-digital).  Another case with similar characteristics was in Cincinnati when the City passed a 10% tax on billboard revenues as part of the city's 2019 budget.  The tax was passed over the mayors veto with two days public notice and no hearings.
The difference, so far, in Cincinnati is the efforts by Norton Outdoor and Lamar Advertising to challenge the tax and higher billboard fees have been successful.  An injunction to stop the tax was put in place and later was made permanent,  predominantly on a free speech argument.  The judge in the Cincinnati case specifically criticized the legal theory used to uphold the billboard tax in Baltimore.  That premise (in Baltimore) "is clearly repudiated by well-established case law," said Hamilton County (OH) Court of Common Pleas Judge Curt C. Hartman.
Quoting the 1981 Supreme Court ruling in Metromedia v. City of San Diego, Judge Hartman said billboards are a means of expression entitled to First Amendment protection.
Insiders Take:  Successful outcomes in Baltimore as well as Cincinnati are important to establish case law barriers to discourage cash-hungry cities from singling out the out of home industry.  Insider hears that Clear Channel will continue the litigation.  We should all keep an eye out for similar situations on the cities we serve.  Remember the OAAA can be a tremendous advocate for the industry if you need assistance.
---
Paid Advertisement