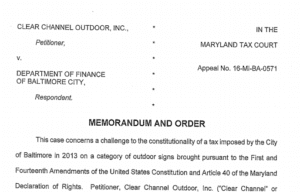 A Maryland tax judge has upheld the City of Baltimore's billboard tax, rejecting a constitutional challenge that free speech could be chilled by singling out one medium while not taxing radio, TV, and newspapers.
The tax was imposed to raise revenue, "not on the right to disseminate information, ideas or speech," the court said.  Billboards do not express or say anything; they only sell "space to advertisers who say things," the court said.
Revenues generated by the billboard tax go to Baltimore's general fund.
In 2013, Baltimore imposed a "tax on the privilege of exhibiting outdoor advertising displays" ($15 per square foot for digital displays and $5 per square foot for non-digital).  Clear Channel Outdoor challenged the tax, arguing:
The city may not impose a specific, rather than general, tax on speech.
The Maryland Tax Court, in a seven-page ruling issued February 27, said:
"An excise tax imposed on the privilege of exhibiting outdoor advertising displays is a tax on the privilege of continuing in business, not on exercising free speech."
A targeted tax could chill speech due to fear of further taxation and regulation.
The tax court rejected that argument, saying the tax "does not raise any constitutional question."
The tax imposes a greater-than-necessary burden on speech.
The tax court: "There is a rational basis for classifying large and immobile billboards designed to stand out from other signs and other advertising.  The billboards subject to tax take up space and may obstruct views, distract motorists and displace alternative uses of land."
A two-day trial was held in June of 2017, Chief Judge Walter Martz presiding.  Insider wouldn't be surprised if Clear Channel Outdoor appeals.
---
Paid Advertisement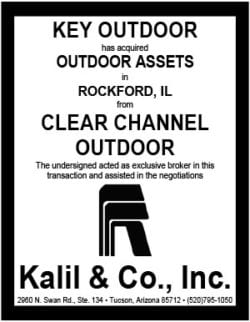 Hits: 0