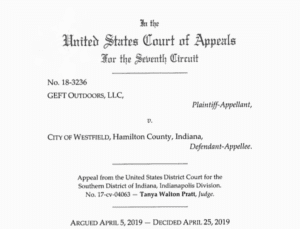 On April 25, 2019 GEFT Outdoor lost a procedural and due process claim against Westfield, Indiana relating to construction of a billboard which Westfield stopped in December 2018.  GEFT still has a pending Reed v Gilbert lawsuit against Westfield.
GEFT claimed procedural rights were violated because the city issued a stop work order which didn't include a date for compliance, appeal process and enforcement actions for non-compliance as required by the township's Unified Development Ordinance ("UDO").  The appeals court said evidence showed that GEFT stopped work due to threat of arrest, not due to the stop work order.  The court also held rather remarkably that there is "no constitutional due process right to state-mandated procedures."
GEFT claimed due process rights were violated when an attorney for the city's law firm  threatened GEFT's owner Jeff Lee with imprisonment.  The appeals court held that although the city attorney's threats for arrest "were certainly inappropriate insofar as Indiana law does not provide a basis to arrest someone for violating a municipal ordinance, his threats are a far cry from the type of conduct recognized as conscience-shocking."  The court said there was no evidence that Westfield authorized or directed the attorney to make the threats.
Insider's take: This ruling is worrisome because it encourages cities to violate their own procedures and illegal threats in an effort to stop billboards.  A bigger pending issue is GEFT's Reed v Gilbert challenge to the Westfield sign code.  GEFT has also filed Reed v Gilbert challenges to the Anderson and Monroe County sign codes.
---
Paid Advertisement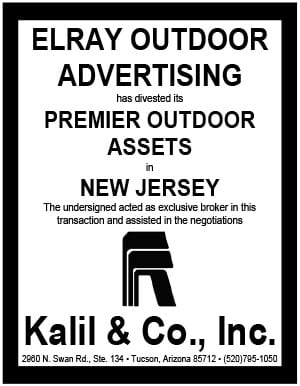 Hits: 4