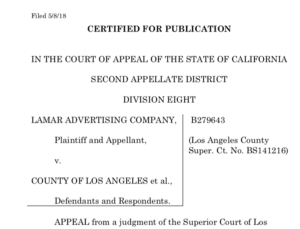 Don't let the best become the enemy of the good.  That's the lesson of Lamar versus County of Los Angeles which was decided on 5/8/18  Here are the facts.
In 1967 the Los Angeles County Department of Public Works granted Lamar's predecessor a permit to construct a billboard in unincorporated Acton, CA.
In 1995 Los Angeles County adopted an ordinance banning billboards in Acton and requiring non-conforming boards billboard owners to take down the non-conforming billboards or to secure a permit within 5 years.
The five year period passed.  Lamar did not secure a permit and the County did not seek to remove the billboard.
In 2008 a windstorm blew over the billboard face.  Lamar installed a new face, lateral supports, an electrical box, catwalk and lighting.
In June 2009 the County issued an order for removal of the billboard.
Lamar appealed the order and was granted the right to submit a non-conforming use review application.
In November 2009 the County prepared a draft order approving Lamar's non conforming use application provided that Lamar agree to remove the billboard in five years.  Lamar rejected the proposal.  The County made a revised proposal to approve Lamar's application provided that Lamar pay $2,000 to compensate the County for inspections and indemnify the County for any action to annul the permit.  Lamar rejected the proposal and resumed an administrative repeal.
In June 2014 the County determined that Lamar's re-erection of the billboard was a new placement under the State's outdoor advertising rules and rejected Lamar's claim that placement of the new billboard was either customary maintenance or repairs to a partially destroyed and damaged structure.
A trial court and the Court of Appeal for the 2nd District of California upheld the decision
Insider's take:  Don't let the best become the enemy of the good.  Maybe Lamar should have taken the county's approval of a proposal to rebuild the billboard in exchange for a payment of $2,000.
Would you accept the County's offer of $2,000 in exchange for approval of continuing non-conforming use?  Let Insider know using the form below.
---
Paid Advertisement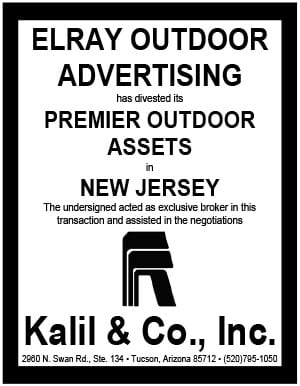 Hits: 0