It has been a busy week for Clear Channel Outdoor.  Insider ran a story yesterday on the announcement of their new board appointees, who will step in after iHeart Media clears bankruptcy and the two companies separate.
The Company also announced a proposed private offering of Senior Subordinated Debt.  The press release caught our eye not only for the size of the offering at $2.2 billion, but also for some of the details provided.
Most importantly, the notes, which will be due in 2024 will be used to pay off an existing tranche of notes coming due in 2020.  This is great news for Clear Channel, as the payoff of the maturing notes will buy the Company some financial flexibility, post iHeart bankruptcy. Even though, the press release was just an announcement of the offering, the likelihood of its success seems very high as the Company announced three days later that the offering would be upsized to $2.235 billion.
But flexibility does come at a cost as the interest rate on the new Subordinated Notes is at 9.25%, a fairly significant increase over the 7.625% interest on the Notes maturing in 2020.  For you Outdoor owners who may have a Senior Credit line with a local, regional or national bank, the interest rate probably seems fairly high.  Keep in mind that Clear Channel has been leveraged (Total Debt to Cash Flow) around 8.5 times.  Here is a breakdown of the different layers of debt as they reported at 9/30/18.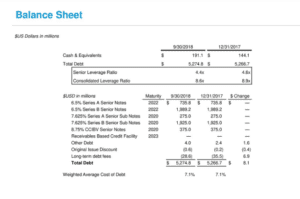 The debt being refinanced is and will continue to be subordinate to the approximately $3 billion in Senior Notes  As a result, the portion of debt being refinanced holds a higher risk premium and thus the higher interest rate. Interest rate is also influenced by market conditions and the Federal Reserve has increased their interest rates 1.75% over the past two years, pushing the Prime Rate up a similar amount.
We are looking forward to Clear Channel gaining their independence later this year and will continue to follow developments.
---
Paid Advertisement