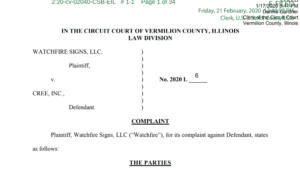 Watchfire Signs has sued Cree, Inc for replacement costs and punitive damages relating to faulty LED bulbs sold to Watchfire.  In its complaint Watchfire alleges:
From April 2017 to March 2018 Cree provided Watchfire with LED bulbs with a significant failure rate.
Cree agreed to provide Watchfire with a $1.1 million credit under a Goodwill Agreement dated May 31, 2018
In January 2018 Watchfire discovered further failures in LED bulbs.
Cree failed to make improvements in process control monitoring to prevent excessive failure rates and Cree manufacturing personnel in China falsified quality assurance testing records.
Watchfire has incurred $1.4 million in replacement costs and expects future replacement costs of $15.6 million.
Insider's take:  First tariffs, then a shutdown of Chinese LED factories due to coronavirus concerns, then counterfeit products and now allegations of faulty Chinese-made LED bulbs.  Not good for the Chinese LED manufacturing industry.
---
Paid Advertisement