Blue Sky Digital Printing, owned by Trent Lindmark, has been on a high growth curve out of their base of operations in Norman, OK.  Insider has a chance to talk with Trent about the business.
Tell us about Blue Sky's digital printing capabilities?
Blue Sky has the capacity to print in excess of 130 14×48 vinyls each day.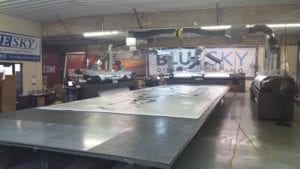 Do you see yourself as a regional provider or do you have customers all over the U.S.? 
We have customers across the United States.  Many of our customers are regional, being in Oklahoma, Texas, and New Mexico, since we can ship their orders within 1 day from our headquarters in Norman, Oklahoma.  However, we only need 2 days to ship orders to over 50% of the United States since our operations are centrally located, so we are constantly adding customers outside our 1-day shipping zone. 
What can I expect for turnaround on an order?
If artwork is approved by our customer before noon on any given day, then the vast majority of orders will ship that same day.  Our quick turnaround time is one of the biggest reasons we have experienced such incredible growth in such a short time. 
 What has your growth curve looked like since you started the business in 2014.
We have seen 100% growth year over year.
 Any plans for expansion or additional equipment to service a growing customer base? 
We have looked at moving to a larger facility and purchasing additional equipment, but the costs of transporting equipment are simply too high.  Instead of moving, we are looking to add another work shift for employees.  Currently, we are only running a 12-hour shift each day. 
If you want further information you can reach Blue Sky Printing at 405.925.5800 or sales@blueskydigitalprinting.com
---
Paid Advertisement