Insider has 3 thoughts after reviewing the details of Link Media Outdoor's Waitt and Key Outdoor acquisitions.  Kalil and Co was the broker on both transactions.  You can find the transaction details in the Boston Omaha September 2018 10Q.
Link Media Acquisitions of Waitt and Key (000's)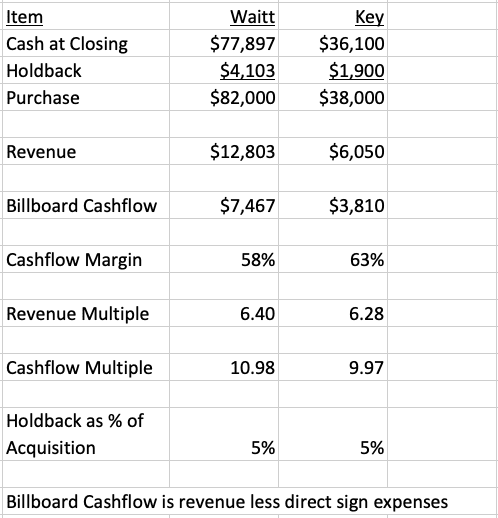 Now's a good time to sell if you've been having thoughts about liquidity.  Lamar said last week it wants to pay 10 times forward EBIDTA for assets it buys.   Link paid an average multiple of 10.98 and 9.97 times billboard cashflow for Waitt and Key.  These multiples will contract if we hit a recession.
Holdbacks are a great way to mitigate acquisition risk.  Link Media held back 5% of each purchase as a holdback for claims for indemnification for undisclosed liabilities or leases which are not assigned during the 12 month period following closing.
Expect a non-compete, especially if the transaction is large.  Both transactions included a 5 year non compete and non-solicitation agreement.
---
Paid Advertisement