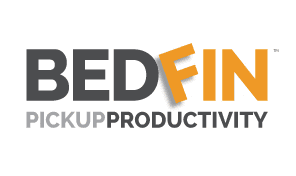 Ever wanted to turn your pickup trucks into mobile billboards?  Billboard Insider reader Keith White has developed a system to do that.  Insider talked with White.
What gave you the idea for Bedfin?
The idea for Bedfin came to me while I was working in the sales department of a metal fabrication company.  Using my personal truck, I'd regularly visit customers and make deliveries.  To make the most of my time, I wanted to promote the business while driving and while parked at my various stops.  I found options such as magnetic signs, vinyl wraps, and other billboard systems.  But what I really wanted didn't exist.   With pen and paper, I began to design a billboard that looked professional, left my bed free to haul loads, didn't require modification to my truck, and would give me the flexibility to change my message as often as I like for a minimal cost.  Bedfin embodies all those qualities I set out to create from the start.  In addition, bolt on accessories – such as a contractor rack – are also available.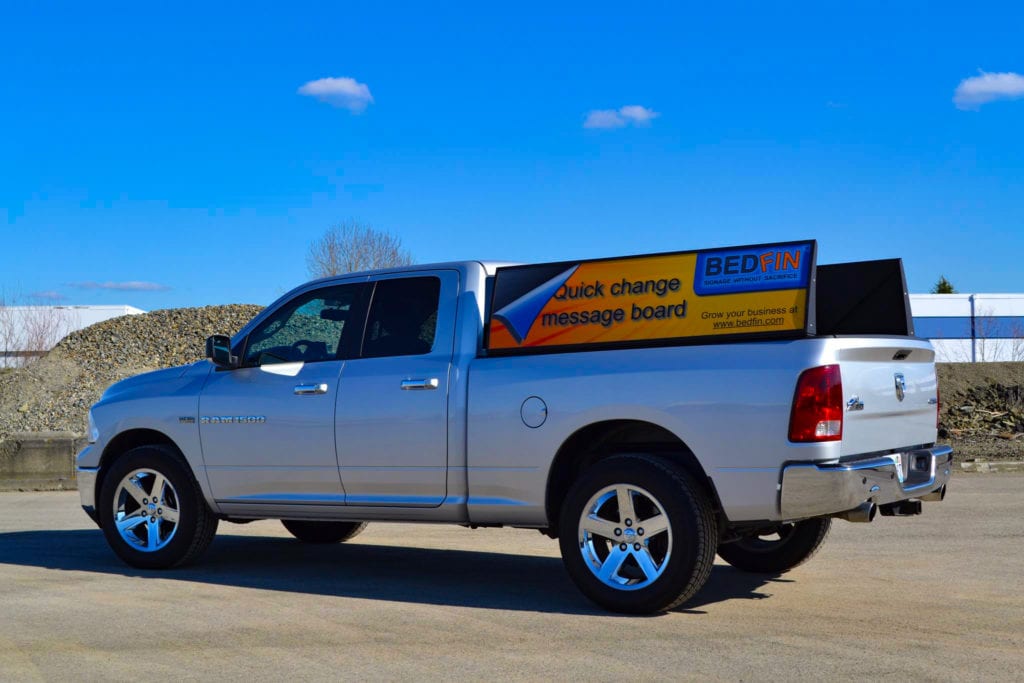 How does the sign system work? 
The Bedfin sign system clamps to your pickup truck bed rails without the need for drilling or use of any special tools.  Using a single wrench, which comes provided with your Bedfin set, you can complete the unboxing and installation in less than 30 minutes.  Removing your Bedfin set takes only about 10 minutes.
Swapping the reusable message panels takes no more than 30 seconds and requires no tools.  A small cover at the tail of the system is removed by unscrewing two hand knobs.  You can then slide the message panel out through the end.  Either flip your double-sided panel or replace it with a new one and reinsert it into the Bedfin system.  Fit the cover back in place and tighten the knobs.
What are the signs made of?
For durability and so they never rust, Bedfin systems are made from 3/16" thick aluminum plate and use only stainless fasteners.  Parts are laser cut, machine formed, and welded by skilled fabricators.  For aesthetics, Bedfin is finished with a textured black powder coat.  All of this is done right here in the United States.
The reusable and replaceable message panels are made of corrugated plastic with your printed vinyl graphics mounted over the top.  The materials are inexpensive and readily available at nearly any print or sign shop.  If you elect to apply artwork to both sides of the message panel, changing your message is as easy as flipping the panel in the Bedfin system.
What are the advantages of using Bedfin versus wrapping a vehicle?
Bedfin systems cost less than most wraps and installation is DIY.  Wraps on the other hand, should be installed by a professional.  With Bedfin, you can avoid the high cost of labor and the downtime required to install a wrap.  Bedfin installation takes less than 30 minutes.  As for changing the message panels – a professional printer can produce them at a very low cost; usually somewhere between $75 – $125.  You can change the message panels out in only 30 seconds and reuse them as often as you like.
With Bedfin, you can focus on one message at a time.  This is important, because viewers only have a short amount of time to understand what you are trying to communicate.  Yet, with the high cost and hassle to change a wrap, businesses are often tempted to clutter their wrap with everything they have to offer.  After all, they only have one chance to say everything.  You've probably seen this many times.  Consider a landscaping truck wrap with bullet points listing all their services; fall cleanup, planting, fertilizing, and more.  Many of the services aren't relevant most of the year.  This dilutes the recall rate for all the services listed.  If that landscaper was using Bedfin, each service could be promoted individually and when it's relevant.  Not only does recall rate increase, but text can be larger and seen from a greater distance to reach more people.
Bedfin message panels are inexpensive to replace as they age.  The vinyl used on Bedfin panels, like that on wraps, will wear with exposure to sun, temperature change, road debris, and other environmental factors.  The difference is a wrap will cost far more to replace than a Bedfin message panel.  Not only will you pay the cost of the new wrap, but also the cost of removing the old wrap.
Bedfin's low changeover cost allows for experimentation and adjustment of messaging.  By contrast, the high cost of changing one wrap for another for the purpose of experimentation is prohibitive.  As any marketer will tell you, the ability to test and adjust is a huge advantage.
Bedfin does not damage the finish of your vehicle. Bedfin simply clamps to your truck bed rails with no drilling or other modification required.  During a wrap install, installers will use razor blades pressed against your paint to trim excess material.  This potentially leads to cut lines in the clear coat and the paint.   Of course, you can't see any of this until you remove the wrap some years in the future.  Even worse, in the case of partial wraps or spot graphics, the damage comes in the form of ghosting.  This is when the areas of paint exposed to the natural elements ages faster than those covered by graphics.  Pitting from road debris, oxidation, swirls from washes, and normal color fading from the sun will be obvious when compared to the sections previously covered by graphics.
To learn contact Keith White, 253-882-4112, keith@bedfin.com or visit www.bedfin.com
---
Paid Advertisement