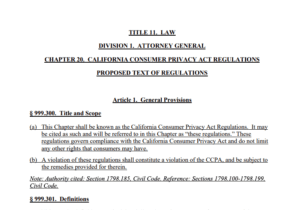 The California Consumer Privacy Act (CCPA) takes effect January 1, 2020.
Insider contacted OAAA to ask about resources for out of home companies. An OAAA-commissioned Q&A:
Describes the California law
Explains how it come about
Offers tips on how to comply
Predicts next steps regarding privacy regulations outside of California
Here's a link to the document:
If you want a take from the consumer perspective, here is an article from the LA Times.
Insider's take:  This is a great starting point for understanding how the California Privacy Act could impact your business.  Be sure to consult a lawyer with specific legal questions and for legal advice about complying.  If you aren't an OAAA member you need to become one.  The OAAA monitors regulatory issues impacting out of home and advocates for the industry.  Membership is cheaper than you might think.  Contact Marci Werlinich, SVP or Membership and Administration, mwerlinich@oaaa.org.
---
Paid Advertisement