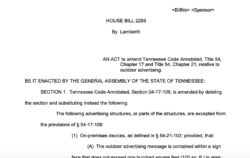 Tennessee Governor Bill Lee has signed legislation (HB 2255) which moots a pending constitutional challenge to the State's billboard control act.
The Tennessee House voted unanimously to approve the legislation on June 11; the state Senate passed the bill 31-0 on June 4.
In 2017, a federal judge in Memphis ruled that Tennessee's billboard law was unconstitutional on free speech grounds. The judge said the distinction between governing on-premise and off-premise signs amounts to regulation based on content, which violates the 2015 US Supreme Court decision in Reed v. Town of Gilbert.
HB 2255 contains a definition of on-premise devices which is based on compensation, which is similar to the Texas legislation. In other words, the State would regulate billboards that produce revenue.
OAAT CEO/Executive Director Tammy Pillips-Dudley told Insider this: "The new law allows the billboard operators to finally be able to get back to running their businesses effectively. Between COVID 19 and not being regulated, it has been a tough few months for the operators in Tennessee. With the new law now in effect, long awaited permitting for vegetation cuts, permitting for new locations, and the ability to now only focus on running their respective businesses, they can finally move forward, rather than remaining in limbo as we have been for months. It is a great week for the OOH industry in the state of Tennessee."
---
Paid Advertisement