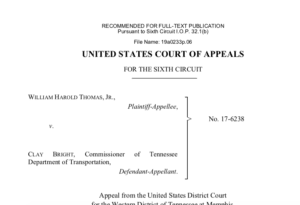 A three-judge panel of US Sixth Court of Appeals upheld a federal trial court ruling that Tennessee's billboard law is unconstitutional (William Thomas v. Clay Bright, decided September 11).
A three-judge panel of the US Sixth Circuit Court of Appeals affirmed a federal trial court decision that Tennessee's billboard control act violates First Amendment free speech protections because it regulates based on content. Specifically, a federal trial court in Memphis and appellate court for the Sixth Circuit pointed to the distinction between on-premise and off-premise signs as a content-based regulation.
In legal terms, the appeals court said Tennessee's billboard law was governed by "strict scrutiny," which means government regulation of speech must meet strict tests in order to justify limits on speech. The court rejected the State of Tennessee's legal argument that its billboard law did not infringe on speech and was based on location not on content.  OAAA and the US Department of Transportation (represented by the Department of Justice) supported the State of Tennessee's position in court.
OAAA issued this statement in response: "The billboard industry supports regulation.  We believe billboard regulation can coexist with free speech.  We will continue to work for proper balance between regulation of billboards and First Amendment right of expression."
OAAA noted that federal appeals courts have split on this matter. The Third and Ninth Circuit Courts of Appeals have ruled that the on-premise/off-premise distinction does not render sign regulation unconstitutional.
In Texas, the billboard statute was challenged in state courts, which invalidated much of the Texas billboard law as content-based regulation.  The Texas Legislature quickly amended the state statute, clarifying that Texas regulates commercial speech on signs (this legislative remedy has not been challenged).
Insider's take:  This is not a win for the out of home industry.  It threatens Tennessee's predictable framework for regulation, including just compensation.   Maybe the Tennessee legislature can apply the Texas fix to its sign rules when it convenes again in mid-January.  To deal with things before then the Governor would have to call the legislature into special session.  Not sure how likely that is.
---
Paid Advertisement