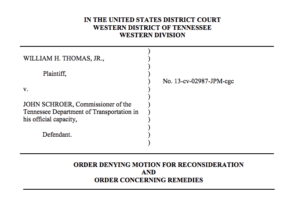 By Kerry Yoakum, OAAA
In a closely watched case, a federal judge in Memphis has issued a  final order on September 20 in a ruling that invalidated Tennessee's billboard-control act on constitutional grounds.
The case (Thomas v. Schroer) challenged the state's Highway Beautification Act as suppression of free speech protected by the First Amendment.  The 2015 US Supreme Court's ruling in Reed v. Town of Gilbert, AZ, helped convince the judge (Jon. P. McCalla) to knock out Tennessee's billboard law.
In the Reed case, the Supreme Court said sign regulation should not be based on content.
The State of Tennessee plans to appeal to the US Sixth Circuit Court of Appeals, said attorneys for the state.  The state will argue that its billboard-control law is not content based and does not impede protected speech.  The billboard industry, in Tennessee and nationally, is expected to assist the state's efforts to sustain the billboard law.
Meanwhile, the State of Tennessee is enforcing its billboard controls while the litigation is pending.
Kerry Yoakum, an attorney, is Vice President of Government Affairs at the Outdoor Advertising Association of America, OAAA.
---
Paid Advertisement