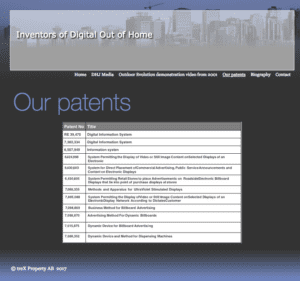 What a difference a year makes.  T-Rex hasn't filed any new lawsuits since July 2016. Insider hears that one or more of T-Rex's patents is expiring in 2018.  Maybe T-Rex isn't suing because some patents are expiring or it is distracted by Broadsign's counter-lawsuit or feels hampered by the Supreme Court's curb on patent lawsuit venue shopping.  Approximately half of T-Rex's lawsuits were filed in the East Texas District Court which used to be popular with patent trolls before the Supreme Court restricted patent court forum shopping.
Who is T-Rex?  T-Rex Property AB was founded in 2003 by Mats Hylin, Mats Dahlgren and Fredrik Persson.  The company acquired 12 patents for outdoor advertising products.  From 2012 to 2016 T-Rex Property AB sued outdoor advertising companies which used a computer to control digital signs.
Who Has T-Rex Sued? Since 2012 T-Rex Property AB has filed 59 lawsuits relating to patent infringement.   T-Rex initially sued outdoor advertising companies operating large digital billboards.  T-Rex expanded lawsuits to include Cinemark and AMC (which run advertising on movie theater screens) as well as the owners of digital sign networks in shopping malls and health clubs,   You can see a list of the lawsuits here.  Insider has been unable to find any new litigation since July 2016.
What Do The Lawsuits Say?  The lawsuits state that the billboard or digital sign company using a computer to remotely control digital signs is infringing T-Rex's patent and request that the court award damages to T-Rex for the infringement.  T-Rex then threatens to proceed with a jury trial unless the billboard company or sign manufacturer settle.
Who's fought back?  In June 2016 Broadsign filed a countersuit against T-Rex on behalf of 5 Broadsign customers who have been sued by T-Rex.  Broadsign is challenging the validity of T-Rex's patents and has requested a jury trial.  The case has not yet gone to trial.
Are You At Risk Of A Lawsuit?  Not if you've bought a digital billboard from Watchfire, Daktronics, Formetco or Prismview because those manufacturers have settled with T-Rex so that all users of their products are indemnified from litigation.  It looks like T-Rex may have stopped suing users of other digital signs.
What Should You Do?  Nothing if your digital sign was made by Watchfire, Daktronics, Formetco or Prismview.  You are protected from a lawsuit.  And even though T-Rex seems to have ceased filing new lawsuits you should talk with your sign rep to understand what your manufacturer will do to protect you if you get sued.  Insider wouldn't buy a digital sign from a manufacturer which hadn't settled with T-Rex unless he was indemnified by the manufacturer from all costs of defending a T-Rex lawsuit.  You also might want to have your counsel research when the T-Rex patents expire.
---
Paid Advertisement