In a victory for property rights, the Supreme Court overruled precedent that had set up a Catch-22 blocking property owners from pursuing takings claims against state and local governments in federal court.
The 5-4 ruling was issued June 21; Chief Justice John Roberts wrote the majority opinion (Knick v. Township of Scott, PA).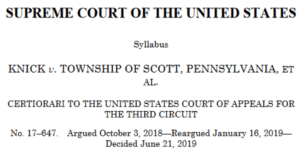 "A government violates the Takings Clause when it takes property without compensation, and a property owner may bring a Fifth Amendment claim under 42 U. S. C. §1983 at that time; the state-litigation requirement of Williamson County Regional Planning Comm'n v. Hamilton Bank of Johnson City, is overruled," reported SCOTUSblog.
Under Williamson County, a property owner seeking just compensation for government taking under the Fifth Amendment could not file a case in federal court until exhausting possible remedies in state court.
The Knick case involved a property owner in the Township of Scott, PA, which passed an ordinance requiring cemeteries to be kept open to the public during daylight hours.
Rose Mary Knick, whose 90-acre rural property has a family graveyard, was notified that she was violating the ordinance. A federal court dismissed her claim, holding that property owners must seek compensation under state law in state court before bringing a federal claim. The federal appeals court upheld the lower court; the US Supreme ruled in favor of the property owner.
Insiders Take:  Knick's attorneys argued that property owners with complaints like Knick's would often prefer to take their cases to federal court because they may view them as more objective than in state courts, which could be seen as being influenced by local politics. This ruling will make it easier to bring billboard-takings claims to federal court as well as saving time and the cost of combined legal representation at both the state and federal level.  
---
Paid Advertisement