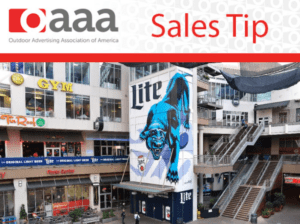 In case you missed it, an article in this week's OAAA Outlook reviewed the WARC (World Advertising Research Center) February 2018 Global Ad Trends report. As illustrated below, a review of the WARC case studies from 96 countries revealed successful brands across the globe have allocated an average of 13 percent of their media investments to OOH the past eight years.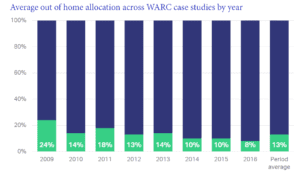 Another WARC report, Media Allocation Benchmarks, found the top global categories investing in OOH included:
•    Government and non-profit organizations (26% of budgeted spend)
•    Alcoholic drinks brands (16%)
•    Retail brands (14%)
•    Automotive (13%)
•    Soft Drinks (12%)
As part of its value proposition in an increasingly fragmented media environment, OOH offers massive reach that generates highly competitive CPMs. However, the chart below shows the US has the greatest disparity in CPMs between OOH and the average for all media, suggesting perhaps that OOH may be underpriced in the US.

WARC projects the following CPM increases for billboards across the globe in 2018. The US is projected for a healthy 3 percent increase, but that still falls short of the global average of 3.5 percent.

Additional data from WARC's international partners show that digital's share of total OOH ad spend varies, but it is increasing rapidly in every market. This historic data places it around 20 percent in the US, over 40 percent in Australia, and over 46 percent in the UK.
In summarizing the benefits of OOH, WARC Data Editor James McDonald said, "Out of home is an industry staple, attracting a consistent share of successful brands' budgets over the long term. The channel delivers affordable reach with CPM routinely below the all media average. Out of home is well-placed for future advancement with rising digital penetration delivering flexible creative informed by rich audience data."
Source: WARC
---
Paid Advertisement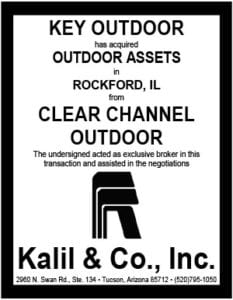 Hits: 2