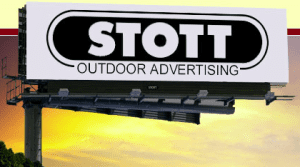 Company: Stott Outdoor
Markets: California, Nevada.
Headquarters: PO Box 7209, Chico, CA  95927.
Phone: 888-342-7868
Stott Outdoor has been in since 1949.  The company's plant is concentrated in Chico, Paradise, Oroville, Yuba City and Modesto California.  The company operates bulletins, posters and a transit advertising business.   General Manager Jim Moravec is an OAAA Board Member.

Hits: 1