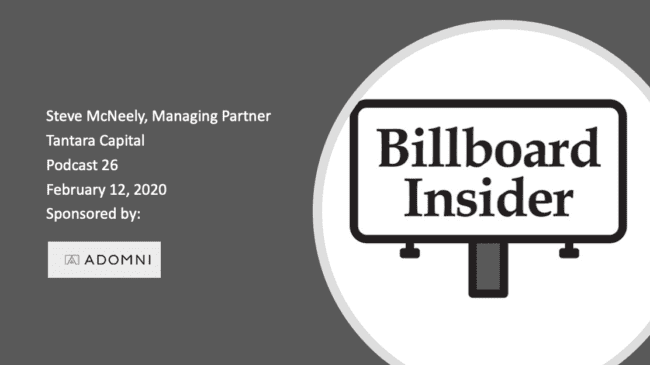 Today's podcast guest Steve McNeely has 30 years experience investing in out of home companies.   Steve talks about his newest out of home investment, what he thinks of the public out of home companies and private equity's biggest issue with out of home.
Podcast: Play in new window | Download (Duration: 31:26 — 43.3MB)
Subscribe: Apple Podcasts | Android | Google Podcasts | Stitcher | TuneIn | Spotify | RSS
Last July you assisted Blackbird Media in purchasing the iconic CNN sign in Atlanta.

A gentleman, Chenault Sanders – you did an interview with him 6-7 months ago, his family had developed the Nashville Sign, which is a 35 by 35 digital in a prime location in Nashville Tennessee.  Chenault was a lawyer by trade and decided to develop this property and learned it the hard way by his bootstraps…he developed social media to where he now has 10,000 followers…He was looking for other opportunities and came upon the CNN sign…a static sign on the south end of Centennial park.  And Chenault was looking for advice and a partner…the demographics in Atlanta were exceptional and there was no competition essentially, sitting there in proximity to the Mercedes Dome, State Farm Arena, College Football Hall of Fame, Centennial park and on and on and on.
On developing locations
There are ways to develop that are tasteful in a supportive complementary way and then there are sticks in the ground.  And that's how the industry got itself in trouble back in the 80's.  Getting a Marlboro or Camel contract and going to a bank to get a loan and put a stick in the ground.
On Blackbird Media's Growth Plan
We want to continue that model in other municipalities…Instead of having 10,000 conventional leases have 10 leases in high profile urban areas…we're looking for opportunities in the Atlanta market which still has some spots as well as some other metro areas.  We're not really interested in going to New York or LA…or Vegas.
What's the future like for independent operators?
I think their future has never been brighter…There's some excellent independent operators.  I give the Independent Operators Association a lot of credit for bringing the independents together so they can take advantage of group buying or group benefits…People say OAAA is just the big guys.  Well it's not.  OAAA does a phenomenal job of representing every operator across America.  So it's extremely important that the independent association and the OAAA work close together.
Lamar
Lamar is just a great, interesting family company that is very successful…in secondary and tertiary markets and looking at local markets and blocking and tackling.  How can you fault their financial success.  I looked today and they are trading at $94-95.  They've doubled in five years…You look at their operating margins, return on equity, the dividend yield, they've got their debt under control.  My hats off to Sean and his team.

OUTFRONT
The was the Arte Moreno, Bill Levine plant that grew up through Viacom and CBS…Jeremy has had some record quarters…He chose to go into the transit business in the major metropolitan areas.  They're looking to focus on…the top 25 markets.  You can't argue with his success…they're trading at a 52 week high.  Good margins, not as good as Lamar's because you've got the transit business…It's a great company.
Clear Channel Outdoor
It's kind of stuck in the middle in some respects…I got a lot of phone calls when they were going through their reorganization – what should we do – and my consistent comment was hold onto this thing for 18-24 months, try to fix it, get your margins up…I would sell the international group in a heartbeat just like OUTFRONT did.  I don't call it diversification.  I call it dilution and exposure.
Link Media/Boston Omaha
 The two guys that founded it are in the Warren Buffett model…Investing long term in cash rich businesses and out of home cashflows to complement their insurance and finance business…They are an interesting regional player.
Standard Diversified/Standard Outdoor
They were 350-450 faces and then they bought the last two Fairway markets that added 3,500 to them.  And I'm still scratching my head as to why they did it.
Adams.
It's a private company. They are a strong regional operator…with some outstanding margins and some outstanding people.  I don't know what Steve (Adams) immediate plans are but a REIT would seem to make sense to providing a liquidity event…
Private Equity and Out of Home
Except for the high multiples things are going well as they are in love with it.  That's the biggest issue right now.  If you look at what Lamar is really trading at, on a trailing EBIDTA basis, 16, 17, 18, that's a big number…Some of the recent transactions I've seen – you may find one down in the 7-8 range, but there's a reason it's trading at 7-8.  They're typically in a 10-12 kind of range…That's the biggest issue right now with outdoor and private equity…
---
Paid Advertisement