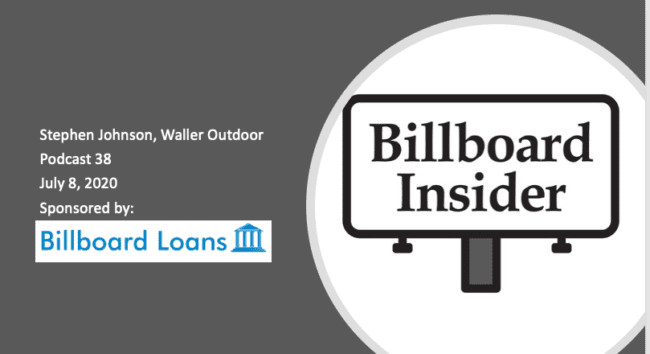 Today's podcast guest is Stephen Johnson of Waller Outdoor.  He talks about what he's learned while building and running his first digital billboard in Waller, Texas.
Podcast: Play in new window | Download (Duration: 27:08 — 37.4MB)
Subscribe: Apple Podcasts | Android | Google Podcasts | Stitcher | TuneIn | Spotify | RSS
Stephen how did you get interested in a digital billboard.
My parents started to work in the newspaper business when I was a little kid.…Years later I got married and my wife worked for them for 10-12 years.  One day I was going to the airport and I ran across my first…digital billboard.  I literally exited the freeway and went back around and sat under it for about 5 minutes.  I was so taken with it…A couple days later I told my wife I needed to show her something…We got in the car…and I showed it to her…I don't think anyone cannot see one of those digital billboards and not be mesmerized…That was the beginning of 7 years of us researching and trying to figure out how we could become an owner/operator ourselves.
How did you choose the location?

I began researching the Texas code…I found out that our community had outlawed billboards 10-12 years before that.  I started looking at all these adjoining communities.  One day someone approached me locally and they talked about expanding into other types of advertising like a digital billboard because some of these businesses can do these on premise boards.  I said no the local city doesn't allow them.  And they said…it doesn't hurt to ask.  I did approach them…So I presented my idea to them and they said they thought it was fantastic…So we got before the governing body and they approved a waiver…They also required that we do it on our property.  It had to be our property and it couldn't be leased…It just so happened that I owned two parcels of land in the central business district…As it turned out…a 35 mile per hour speed limit and a red light right in the middle of town were perfect for digital billboards.
Which manufacturer did you use and why?
I went with Daktronics…I'm the kind of guy I will research something until I'm blue in the face…When I started googling manufacturers, several times I came across the phrase for Daktronics "the top US manufacturer of digital signage".  That stuck with me because I wanted to go with the best…I've never been one of the go the cheapest route kind of person because it always seems to get people in trouble.I had a wonderful salesperson.  Brittany VeneKamp…She answered all of my questions…She was patient.  She was kind.  She was diligent to get back with me if she didn't have the answer…I wanted them to be a partner with me after the sale and they've done that.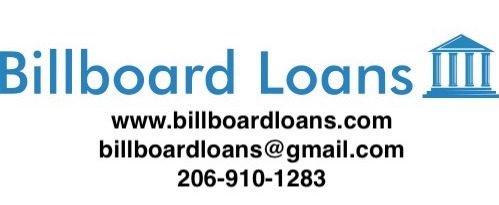 How big is the sign?
I have two.  Back to back.  And they're 10' by 20'…One of the requirements for our municipality was they had to stay pretty close to what their original on-premise sign ordinance said.  That sign ordinance said 200 square feet…Second to that I had done quite a bit of research on 35 mile and hour speed zones.  The 10' by 20'…was what was a trend…At a 35 mile speed limit you can read it…For me being in that business district, matching the ordinance, the cost, it all fell into place easily.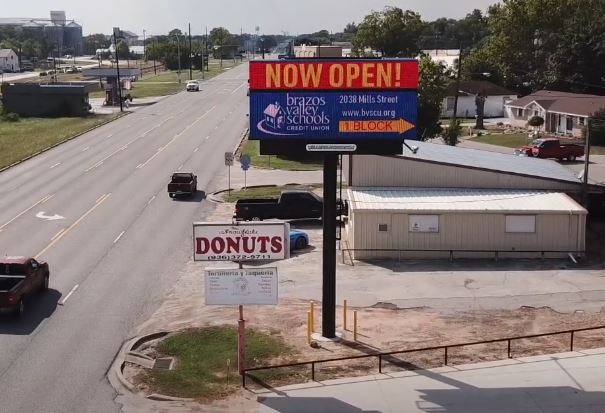 How's the billboard doing?
Absolutely wonderful…For the past year we're sold out 80% of the time…We don't have any trouble selling these ads…  People see them and then call us.  With this Covid we expected a decline but we were busier…I think it has to do with your clients…Our realtors in our area have all told me that they have been booming since this Covid has happened…I have two of those that are full time.  I have a church that is full time.  I have an auto mechanic…They are also customers with our newspaper that have been with us 10-20 years.
Any tips for someone who is looking to install their first digital billboard?
Number one, don't go the cheapest route…If I can give you an example there's an on-premise sign in our area that did not go with a US manufacturer.  He's been in operation a month longer than we have…His sign – you can see where the different modules connect – it's a terrible example of not going the most professional route.
Secondly, getting the right lender.  That can be the biggest burden…it helps to have a lender that understands the business and can comfort you…In your case, Billboardloans.com told me early on that you'd only finance a reliable manufacturer.
The third thing would be…you've got to put a lot of value in your community relationship.  Because without the community you are not going to do it.  We're not going to make it…You have to include them, make them feel like there's value in it for them…be an integral part of the community.
---
Paid Advertisement