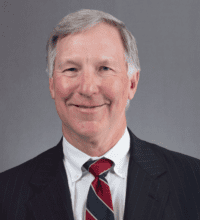 Billboard Insider reported yesterday on the Texas House Transportation Committee hearing on HB 3368 seeking to establish a 42.5' maximum height on new billboards. I attended the hearing, and testified on behalf of several clients that the proposed legislation should be rejected as unconstitutional. Here's the backstory.
Prior to the enactment two years ago of Texas Transportation Code Section 391.038, there was no Texas or Federal law governing the height of signs. There still is no Federal law on sign height.
Section 391.038, which was not opposed by TxDOT, because of the safety and mechanical problems they encounter in measuring sign height, only grandfathered signs existing on 3/1/17, and it did not establish a limit on the height for new signs. Specifically, subsection (a) grandfathered as legal all signs that existed on 3/1/17 up to a height of 85',  and subsection (c) authorized these grandfathered signs to be rebuilt at the same locations and height up to 85' without any additional permits from TxDOT. As a result, hundreds of administrative cases pending over cancellations of permits for sign height violations were dismissed by TxDOT, since the newly enacted State law rendered these signs compliant, legal, and grandfathered (as long as they existing on 3/1/17, and didn't exceed 85').
The Texas Transportation Commission, which passes administrative rules consistent with the State statutes enacted by the Texas Legislature, then followed Section 391.038 with an new administrative rule on sign height, 43 Texas Administrative Code Section 21.189. This rule, effective March 2018, reiterates the existing 42.5' height limit on new signs, but goes on to provide that "if the legislature does not establish a maximum overall height of commercial signs before September 3, 2019, effective September 3, 2019, a commercial sign may not be erected that exceeds an overall height of 85'."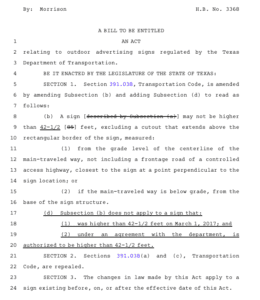 HB 3368 attempts to establish a maximum height for new signs of 42.5', as contemplated by Section 21.189, but it violates the prohibition in  Article 1, Section 16 of the Texas Constitution on retroactive legislation. In particular, the bill also repeals subsections (a) and (c) of Section 391.038, which granted valuable grandfathered rights to owners of signs existing on 3/1/19. Thus, the Texas Constitution would prohibits such an attempt to retroactively render those signs illegal, after they were just grandfathered as legal in the previous Legislative Session.
It also follows, ironically, that since HB 3368 is unconstitutional, the Legislature will not have established a valid and constitutional law establishing a maximum overall height of signs, as contemplated by Section 21.189. Therefore, without such a law, the permitted height of signs becomes 85' on September 3, 2019.
The author of the bill has invited "stakeholders," including me as the attorney for several Texas billboard companies, to meet in an effort to salvage the constitutionality of the proposed legislation, as well as to compromise on the height limits proposed on new signs.  Thus, the story continues, so stay tuned.
---
Paid Advertisement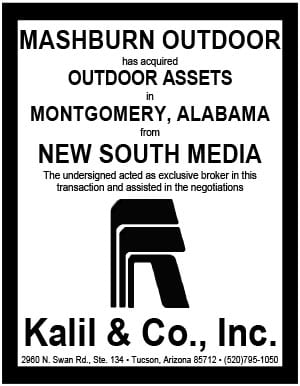 Hits: 0