Rate This Board allows a billboard designer to rate a billboard ad using the following scale: 1 (not good), 2 (below average), 3 (average), 4 (very good), 5 (great).  Then the designer recommends how to improve the ad.  This week's rating is provided by Melody Roberts, an OBIE nominated billboard designer and founder of Out of Home Creative, an outdoor advertising design firm specializing in out of home design for businesses, agencies, media buyers and out of home companies. Melody has been in the outdoor industry since 1999. Insider uses and endorses her services.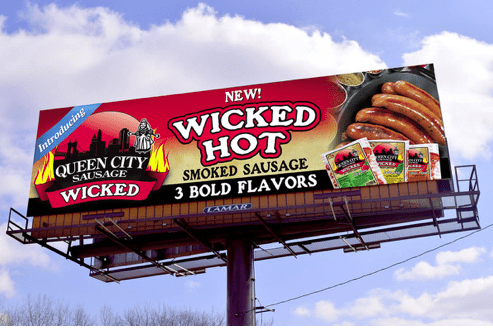 Queen City Sausage
Rating 3
The color scheme is great for out of home.
It is important to (try to) sell clients and agencies on a concept vs. content because an idea is more likely to be memorable, create a buzz in the marketplace and set a brand apart from its competitors.
Unfortunately, this advertisement is crowded and chopped up since there are too many visuals and repeated content.
I visited their website to see if this was their standard logo but it appears they have added, "fire graphics and the word wicked" for these new products to the logo. I understand they probably wanted to keep their advertising consistent, but not all media is the same. What may work online may not translate to out of home advertising, and I feel this is an example of that.
If the client or agency directed their layout to be the same as their online thumbnail, I would have tried to meet them halfway by modifying a version with a more focused message for outdoor advertising:

Delete the blue "Introducing" banner in the corner
Move "New!" to the bottom banner so it would read, "3 New Bold Flavors!" and make it larger. By doing this, "WICKED HOT…." can move up.
Either delete the three packages on the bottom Right which would then allow the sausage photo to be larger and more balanced with their logo or vice versa. I don't believe anyone would be able to read the three new flavors on the packages, so it's more about getting the product to be visible.
Eliminating repetitive content allows consumers to focus on who the advertiser is, what they are selling and where or how to get their product.
For out of home advertising usually, one image is enough to capture people's attention, and by using one picture, it can be the focal point (and significant) on a billboard.
---
Paid Advertisement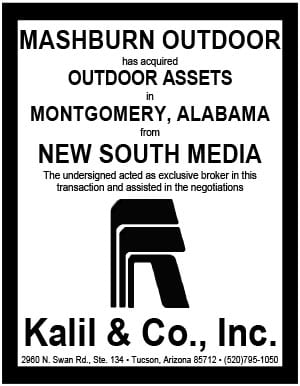 Hits: 0