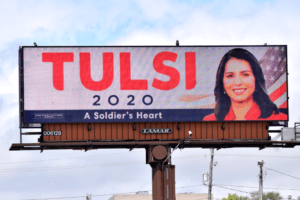 Spending on OOH (out of home) political ads was up 49 percent in the first quarter of 2019 compared to the same period in 2017, according to ad-spend tracking service Kantar Media.
Although 2019 is an "off-year" with fewer elections compared to even years 2018 and 2020, presidential campaigns already have bought billboard ads in Iowa . . . long before the Iowa Caucus scheduled February 3, 2020.
Tim Jameson of Lamar Advertising-Des Moines says these presidential campaigns have purchased billboard space in Iowa:
Tulsi Gabbard began billboard advertising mid-April in Des Moines. A four-term congresswoman from Hawaii, she also is an officer in the National Guard.
Marianne Williamson's campaign was up on billboards in Des Moines starting in February. A bestselling author, Williamson supports higher taxes on top incomes, Medicare for all, and free college tuition. She ran unsuccessfully for a California congressional seat in 2014.
A third presidential candidate plans billboard ads in the Cedar Rapids market.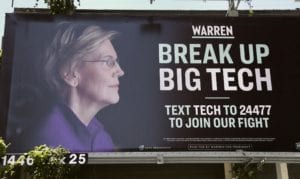 Elizabeth Warren's presidential campaign placed a billboard in San Francisco, calling for the break up of Big Tech.
---
Paid Advertisement