Signvalue co-founder Paul Wright talked about Landmark, Outfront, Clear Channel and Link on this week's Billboard Insider Podcast
Landmark
I think that they represent a threat to the industry but not as big a threat as I initially thought…They're really looking for long term leases that have solid revenue streams…They want long term leases.  So the idea that they might come in and buy short term leases and then call the billboard company and say hey we're going to raise you lease rates and its going to be a huge amount of money that you can't afford – that really hasn't materialized.  So I think some of the early fears about Landmark have not been borne out.  That said, when you start to accumulate 600 leases there becomes a critical mass where you have leverage and control…Their leverage or their borrowing power is growing.  That's of more concern to me than their initial modus operandi.  I would say that their long term outlook and they way they are packaging and pooling those leases for investors is a comfort to us and it leads me to believe that they're not going to try to harness that into some kind of bargaining power.
Lamar
A well managed company that is conservative in the way they approach acquisitions and leasing and capexp.  And they've done an excellent job growing during this last few years.

Outfront
I'm a little bit surprised that Outfront hasn't been able to cut their operating expenses as much as I thought they would when they spun off into a REIT.    I think that there's more fat to cut there…I think that it's a little bit more difficult than I realized.  I think that the large markets that they're in with more sophisticated landowners and more transit agreements and that kind of thing is going to make it harder for them to get as lean and as efficient as Lamar.
Clear Channel Outdoor
Clear Channel Outdoor is in a real transition right now.  It's going to be interesting to see how they emerge and the shape they take.  I had hoped for a little bit more dramatic announcements…I think that we're probably going to see that in the next year or two.
Link Media Outdoor
We're watching Link really closely, in fact, we just mapped all of their recent acquisitions and we're looking at the pattern that they are building nationwide…there's a swath of a few states where they haven't made acquisitions yet but they're closing in I suspect.  And we like what they're doing.
---
Paid Advertisement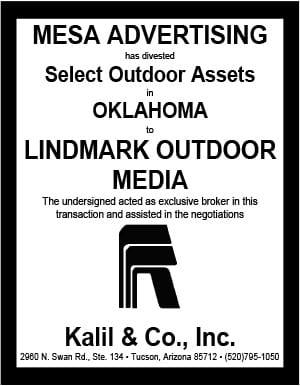 Hits: 12