One of the many things Insider loves about OOH is our commitment to doing good in our communities and the world. One of the groups that operators work with is The Foundation for a Better Life and their PassItOn.com out of home campaigns. Insider had the opportunity to interview Gary Dixon, President of The Foundation for a Better Life.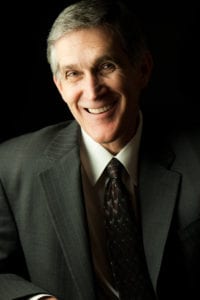 Gary, what is the purpose of PassItOn.com?
Our mission is to promote positive values and encourage those who see these messages to pass their own good values along to others. Hence the slogan Pass It On! Our hope is that the billboards provide life reaffirming messages that that inspire and uplift people in each city where they are posted. We do not participate in fundraising and are nonsectarian.
Who was the driving force behind The Foundation for a Better Life and how did it get started?
In 2000 we had the pleasure of meeting with Nancy Fletcher about this idea of developing a "values" campaign. She was very insightful as to how it should be structured and quite encouraging. We also met with the beloved Carl Eller who shared his experience and wise advice with a reminder us to "keep the messages simple. . . and remember that the sky is your background." It was also our good fortune to secure the help of advertising legend Jay Schulberg and his team who had created the Milk Mustache campaign along with many others. That team included Creative Directors Bernie Hogya and Ron Wachino who continue to work with us today. Our Chairman, Philip Anschutz provided the funding and the guiding perspective that "people are basically good but sometimes appreciate a reminder. These seemingly small examples of individuals living values-based lives may not change the world, but collectively they will make a difference."
Nancy, Stephen Freitas, Ken Klein and Nicole Randall continue to provide valuable guidance. In addition we appreciate the generous support of the many members of the OAAA across the country. This campaign literally would not happen without them! The result is one of the most successful and longest-running public service campaigns in the history of the industry.
Who are some of the celebrities you have worked with on campaigns?
We have had the distinct privilege of using the images of Muhammad Ali, Jane Goodall, Kermit the Frog, Shrek, Mona Lisa, Albert Einstein, Garth Brooks, Malala, Oprah Winfrey, Jackie Robinson, the Wright Brothers, Abraham Lincoln, Whoopi Goldberg, Nelson Mandela, John Wayne, Mia Hamm, Mister Rogers and many others.
If I own or operate a billboard company, how do I get involved?
Our next campaign will launch later in 2019 and each billboard company will receive a promotion packet along with an email directing them to the "order" link on our website. We provide bulletin, posters, shelters along with all sizes for airports. Thank you! It is an honor to work so closely with the great people who are part of the OAAA. Their support allows these messages to reach millions of people across the country. Together, I believe we are making a positive difference in the lives of many people.
Below are the creatives from the latest campaign: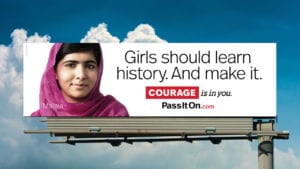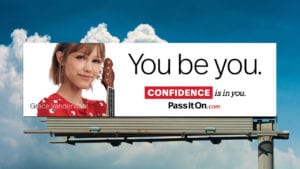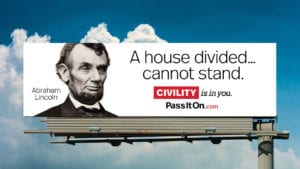 ---
Paid Advertisement