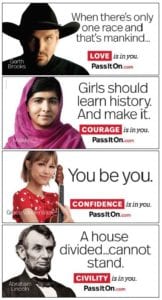 For more than 15 years, the Foundation for a Better Life has worked with OAAA to inspire millions of Americans with its Pass it On public service campaign. Since its launch in 2001, the OOH industry has donated more than $285 million in ad space.
"Pass it On is one of the industry's longest-running PSA campaigns, and truly one of the most recognized around the country," said OAAA's Nancy Fletcher. "Over nearly two decades, these OOH ads have humbled us, inspired us, and reminded us about the core values of humanity."
The campaign is back this year with new influencers and values. In this 12th phase of Pass it On, messaging has shifted from urging audiences to explore values to realizing values are already within us.
Country music legend Garth Brooks is featured alongside lyrics to his song We Shall Be Free: "When there's only one race and that's mankind…" At a time of racial discord in the US, this creative reminds Americans that "Love is in you."
Global girls advocate and Nobel Peace Prize winner Malala Yousafzai, known for speaking out against the Taliban's ban on girls' education, believes that girls should learn history and make it. She inspires "Courage is in you."

Grace VanderWall, 13, won the 11th season of America's Got Talent. Despite recently being named Billboard Women in Music's 2017 Rising Star, she prides herself on living a normal life and empowering young girls to believe in themselves. Her billboard tells fans "Confidence is in you."
Abraham Lincoln is featured this year to remind American's "Civility is in you." His billboard says, "A house divided… cannot stand."
Additional messages for Civility, Courtesy, and Optimism are also available.
These PSAs are now available to order. The Foundation will continue to provide the funding to produce bulletins, posters, bus shelters, and mall kiosks. As in the past, the Foundation has agreed to pay a one-time posting fee of $200 for each bulletin, $50 per poster, and $25 for shelters/mall kiosks, with proof of performance photos and completion reports.
OOH inventory can be ordered at passiton.com/billboards.  Digital OOH creative is also available for download.
---
Paid Advertisement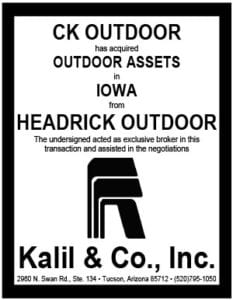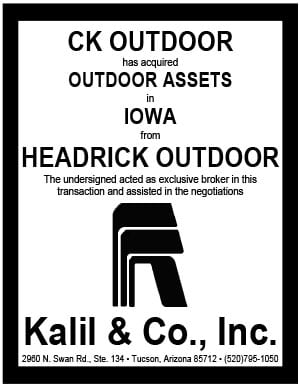 Hits: 11