Outfront had a strong first quarter 2019.  Here are the results from the earnings release and investor presentation for the three months ended March 31, 2019.
Revenues increased by 10% to $371 million during the first quarter of 2019.  Billboards were up 5%.  Transit was up 22% due to the positive impact of a rollout of smartboards.
Operating expenses increased 10% to $217 million in the first quarter of 2019 due primarily to higher transit expenses (many of Outfront's transit contracts have a % of revenues clause) so more revenues mean more franchise fees to transit agencies.
Selling General and Administrative expense increased 14% to $73 million.
Adjusted cashflow (OBIDAN) increased 7% to $87 million.
Capexp totaled $18 million for the first quarter of 2019.  In addition the company spent $32 million during the quarter deploying MTA smartboards.  The company almost doubled the number of screens deployed in MTA stations during the first quarter.  See chart below.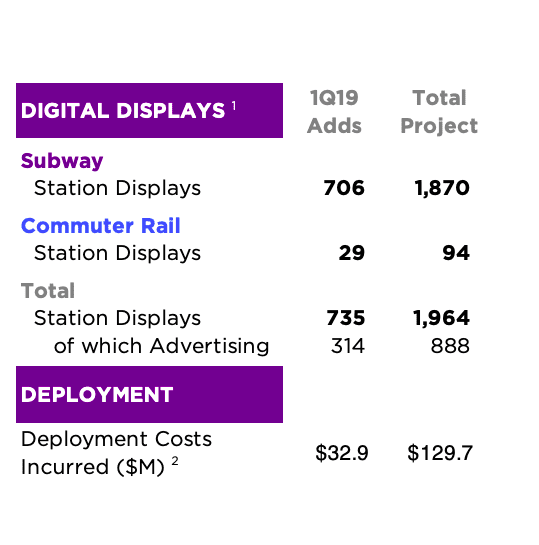 The market liked what it heard.  Outfront closed the day up 0.13% on a day when the S&P 500 fell 1.7%, Lamar fell 1.7% and Clear Channel Outdoor fell 5.7%.