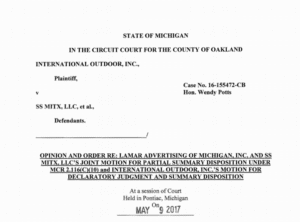 International Outdoor v SS Mitx demonstrates the importance of using certified mail to deliver important written notices under a billboard lease.  It also addresses the issue of lease abandonment.  Here are the facts
In March 2009 International Outdoor entered into a lease to erect a billboard on property owned by SS MITX.  The lease had a term of 5 years and gave International Outdoor the right to renew the lease for seven additional five year terms by giving prior written notice.  The lease also called for rent of $1/year from the lease execution date to the advertising date.  Rent was deemed to have been paid as scheduled unless SS MITX notified International Outdoor of non-receipt of payment.
The sign was not built.
In 2016 International Outdoor learned that Lamar was attempting to get a permit to install a billboard on the property governed by the lease.
International Outdoor asked the Court for a summary judgement that its lease was valid because it had notified SS MITX of renewal of the lease.  MITX and Lamar asked the Court for a summary judgement that SS MITX could enter into a lease with Lamar because International Outdoor lack of undertaking to obtain approval for the billboard and lack of payment of rent constituted an abandonment.
In May 2017 the Court denied both parties summary judgement motions.  The Court ruled that Lamar and SS MITX had not proved the lease was abandoned because the lease did not contain specific construction timeframes or deadlines which International Outdoor failed to meet.  In addition the court found that there was no evidence that International Outdoor had breached the payment clause because there was no notice to International Outdoor of non-payment.
At the same time the Court ruled that it could not declare International Outdoor's lease valid because  an SS MITX employee presented an affidavit that he had searched the company's files and could find no evidence of notice.  The court stated: "Lamar and SS MITX's evidence in the form of an affidavit is sufficient to rebut the presumption that the lease renewal was delivered by the postal service."
The court left one claim unresolved.  Insider will write up the Court's eventual decision in a future column.
Insider's take:  Your lease should require key notices – defaults, termination, extensions – to be delivered by certified mail to avoid legal disputes over whether notice has been given.  In this case the Court denied summary judgement because a landlord affidavit raised questions about whether notice to renew a lease had been received.
---
Paid Advertisement