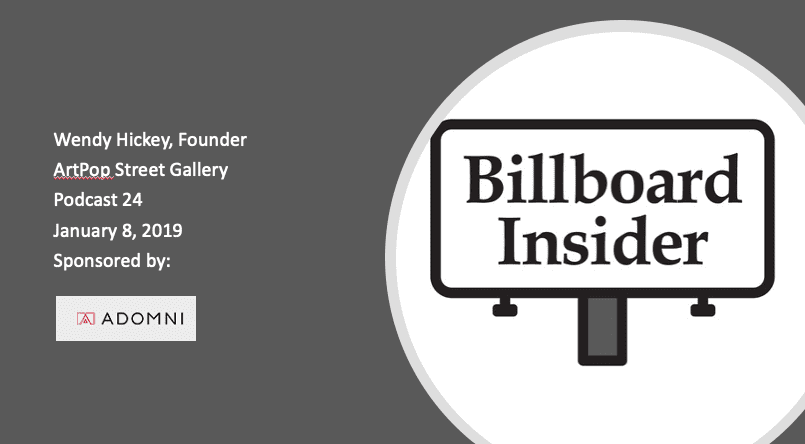 Today's podcast guest Wendy Hickey is known as the fairy art mother.  Wendy talks about how her company ArtPop Street Gallery helps artists showcase their work on billboards and digital signs.  She also give some sales tips based on 18 years experience as an out of home sales rep and sales manager.
Podcast: Play in new window | Download (Duration: 23:28 — 32.3MB)
Subscribe: Apple Podcasts | Android | Google Podcasts | Stitcher | TuneIn | Spotify | RSS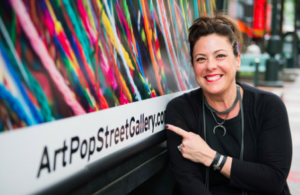 Talk about your background and how you got into out of home.
My background was in retail sales management and fashion merchandising and I was a a time where that was really not bringing me a lot of joy and I looked into Adams Outdoor Advertising and was hired in Adams Outdoor Advertising in a sales role back in 1998.

Where did the ArtPop idea come from.
When I was with Adams I moved several times…I was working in the Pocono Mountains of Pennsylvania..and I was serving on the board of directors for the Pocono Arts Council and I was thinking what can I do to truly serve the local artists in our community…I thought, wow, it can give local artists billboards.
How does ArtPop work?
When we go into a city we do an open call for artists to submit their work.  And then we have…a panel of jurors who judge the work…We feature the juried artists artwork on billboards, newsstands, at airports, any out of home that we are able to negotiate in an area.  Our program has evolved now so it is just not ad space that these artists receive but we also offer each of our artists a two day business course with an organization known as artists university to teach them how to live sustainable lives…Now in one of our cities one of those spots is offered to a senior high school artist who is in transition to study the arts in college.  They get all of the adult benefits and we also provide a scholarship.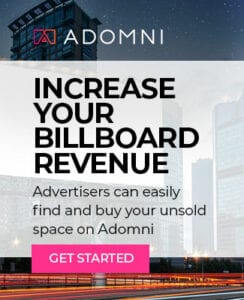 What sort of a response do you get for a call for art.
In Charlotte, North Carolina we just had our 2020 announcement…We've received 139 submissions and only 20 spots can be filled.
Who pays for the vinyl.
Typically ArtPop pays for the production.  We do that through donations and grants…Since 2014 we have served 368 artists on over $20 million of donated advertising space from the out of home industry…the out of home company donates space and installation.
Why do out of home companies participate?
They love ArtPop for many different reasons.  So nobody wants to see a blank billboard…when it's covered with local art from the community in which the artist lives in it's a win for everybody…Many things change but one of the things that doesn't change is traffic…we're in need of inspiration…While everybody is going about their days being able to see art in a place where you do not expect to see art is delightful, it's thought provoking, its also a chance for the 70 plus percent of our population who never goes to a gallery or museum…to be able to see art…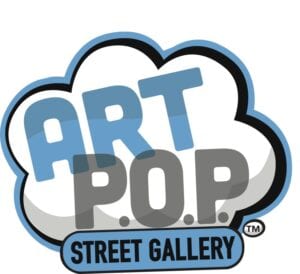 How has ArtPop grown?
We started our very first program in Charlotte in 2014 – 20 billboards for 20 artists.  We have been in 14 cities in 11 states.  We've served 368 artists…It's not strictly static billboards any more.  We use digital billboards, airports, newsstands, shopping center displays…
Give some ArtPop success stories.
Our ArtPop nirvana is when an artist is able to go full time being an artist.  That their art is not a side hustle, it is their career…We have had an artist that has had so much success from ArtPop in 2015 that she opened up her own art gallery and many of the artists that are featured at her gallery are ArtPop artists as well.
What can an out of home company do if it wants to support ArtPop. 
A couple things.  If we have a presence in a market we would love to have any space that we can feature an artist on.  One of the things that we are doing that is fairly new is digital out of home operators across the country that we are connected with through the OAAA or the IBOUSA – we are able to provide creative.  So all they need to do is get in touch with me and provide specs…and feature our artists on their billboards right now.  From a financial standpoint of course we always need funding.  So if someone's inspired enough to donate to ArtPop financially…we would be grateful for that.
To find out how you or your company can be involved with ArtPop Street gallery go to ArtPopStreetGallery.com or visit @artpopstreetgallery at Instagram, LinkedIn or Facebook.  Here's a video which explains what ArtPop does.
---
Paid Advertisement