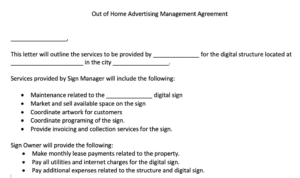 A reader asked Insider about out of home management agreements.  A management agreement can help a sign owner generate revenues from a single sign or a small group of signs in a market without having to staff the sign.  It allows the sign manager to generate additional profit from a sales force and it's a great way to get to know a sign or group of signs prior to a purchase.  Here are the components of a good management agreement.
Here are the key points on a management agreement.
The parties.  Identify the sign owner and the sign manager.
Scope of Work.   Spell out who does what including the following.  Some management agreements involve only sales.  A more comprehensive management agreement will ask the sign manager to handle  maintenance, marketing and advertising, sales, contract administration, artwork, programming, customer invoicing.  Insider recommends that the sign owner keep control of utility and tax payments and the monthly lease payment to landlords.
Compensation.  Spell out how you will be compensated.  A % of gross collections is usually the way to go.  Insider has seen a management fee of 15-20% for sales, increasing to 40% of collections for selling, running and maintaining a sign.  Most agreement also provide for the manager to be compensated for certain out of pocket business expenses.  You should also be specific on what reports will be provided to the sign owner to verify the management fee.
Term and Termination.  Many management agreements are month to month.  If a sustained sales effort is required a longer term makes sense as long as there are performance milestones.  Terminations should be in writing.  There should be a provision in the agreement which defines how commissions are handled after the agreement is cancelled.
What's been your experience with management agreements?  Let Insider know using the form below.
---
Paid Advertisement