The out of home (OOH) advertising industry
 honored seven industry leaders with its most esteemed awards. Reagan Outdoor Advertising Chairman William Reagan was presented with the highest honor, the Myles Standish Distinguished Achievement Award of Excellence, at the 2017 OAAA\Geopath National Convention + Expo.
An active leader in the OOH industry, Reagan is the immediate past chair of the OAAA Board of Directors, is a founding director of the Foundation for Outdoor Advertising Research & Education (FOARE), and was inducted into the OAAA Hall of Fame in 2003. Reagan is also active politically at the local, state, and national levels, providing continued support for the industry's legislative and regulatory goals.
The L. Ray Vahue Marketing Award of Merit, the industry's top marketing award, was presented to Rick Robinson, chief operating officer and partner at Billups. Robinson has worked in the OOH advertising industry for more than 30 years. His time at Ackerly Airport Advertising, Gannett Outdoor, and Outdoor Systems gave him experience to open MacDonald Media's Los Angeles office in 2001, which built up the agency's west coast business to $30 million over 13 years. At Billups for the past two years, Robinson has brought a wealth of knowledge in the OOH space to propel the company's success.
OAAA Hall of Fame recipients are individuals recognized for their enduring contributions to the OOH advertising industry. The following industry leaders were inducted into the OAAA Hall of Fame:
Debra Abdalian-Thompson, Cleveland Outdoor
Don Avjean, OUTFRONT Media
Paul Cook, Wolverine Sign Works
Greg McGrath, Clear Channel Outdoor
Pat O'Donnell, YESCO Outdoor
Congratulations to all of the 2017 Industry Award Winners, thank you for your extraordinary contributions to the legacy of the OOH industry you have made over the years.
---
Paid Advertisement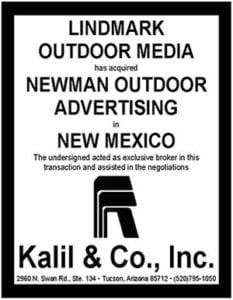 Hits: 1