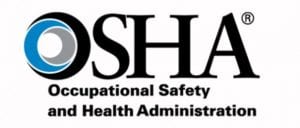 Insider reviewed 81 OSHA citations written to display advertising companies (NAICS Code 541850) for the last 24 months (January 2018 to January 2020).  Three takeaways.
Citations declined in 2019 versus 2018. 
OSHA wrote $49,000 in fines against display advertising companies in 2019 versus $179,000 in fines during 2018.  The large fines in 2018 are due to penalties relating to two OUTFRONT fatalities.  Those cases are under appeal.  And it pays to appeal fines.  Over the past two years OSHA issued $279,935 in fines to display advertising companies relating to the 81 citations.  That works out to an average of $3,444 per citation.   Those fines were reduced by 20% to $222,000 or $2,704 per citation through settlement conferences.  Correcting issues, demonstrating good faith and negotiating can reduce your fine.
What's up with Virginia?
Looks to Insider like there's an overzealous OSHA office in Virginia.  26 of 81 citations over the past 2 years have been written in Virginia.  Hard to believe Virginia out of home companies deserve one-third of all citations in the United States.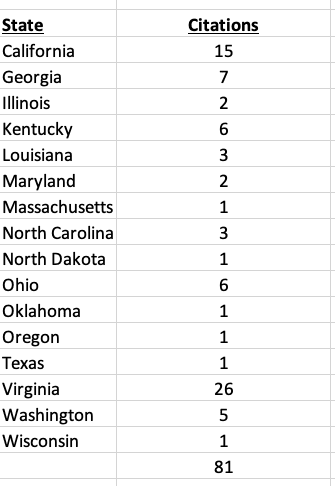 Fall Protection and Cranes are Hot Buttons
Here's a breakout of citations by type.  Vehicle Mounted Elevating and Rotating Work Platforms (e.g. cranes) and fall protection are current OSHA hot buttons.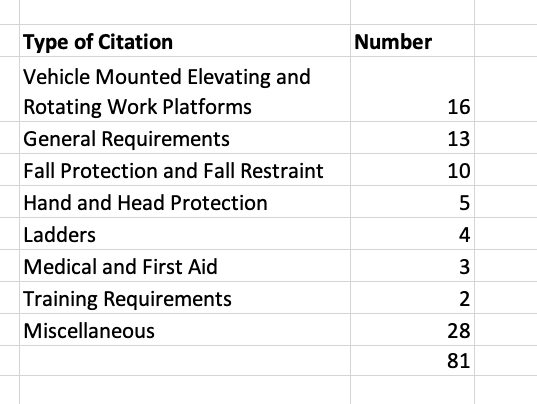 Fall protection is a must.  Insider is aware of three fatalities in the last two years which have occurred when out of home workers or contractors have fallen from billboard catwalks.  There are attorneys who would love to sue your our of home firm for work related injury damages.  Keep your employees safe!
---
Paid Advertisement