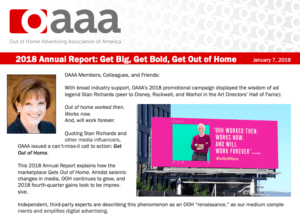 The OAAA has issued its 2018 annual report.  Insider urges you to read it in it's entirety to to review the successes of 2018 and to identify the important issues for 2019.
The OAAA effectively defended the industry's interests in court and before legislative bodies in numerous ways:
filing a brief in support of the state of Tennessee's billboard control law
providing expert testimony on the importance of billboards as "speech" at a tax hearing in Cincinnati which translated into a successful challenge to the billboard tax
assisting 19 state associations
responding to 350 requests from members for legislative/regulatory information and research.
The OAAA is growing with the addition of 80 new members in 2018 for a total of 837 members.
FOARE awarded $37,500 in scholarships to 13 students with ties to the OOH industry or an interest in a career related to OOH.
The industry's Get Out of Home campaign highlighted how out of home competes with and complements online and mobile advertising.  The campaign has been featured on more than 50,000 units including 27 digital screen networks in 30 major US cities.
The OAAA spearheaded several research projects:
a January white paper on autonomous vehicles
a white paper on smart cities
a 100+ page study on OOH's return on investment.
it also advanced a long term project to identify and uncover benchmarks that can be applied to OOH attribution modeling.
Insider's take: OAAA dues are money well spent.  Insider can't think of another industry group which accomplishes so much so efficiently.
Here is the link to the full report: http://oaaa.org/portals/0/Public%20PDFs/Outlook%20Newsletter/2018%20Annual%20ReportFINAL.pdf
---
Paid Advertisement