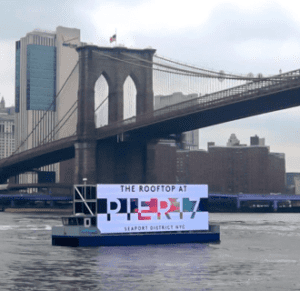 Insider reported in March on a  Brooklyn Daily Eagle report that two city council members had introduced a bill slapping Ballyhoo Media with a $100,000 fine for operating a 20′ by 60′ double sided digital billboard on New York waterways.  Mayor de Blasio further announced that New York City had sued Ballyhoo for creating a public nuisance and violating local zoning laws.
That case has now moved to the state level as a bill passed in the New York State legislature would prohibit companies from operating boats with digital billboards or other billboards that use flashing, intermittent or moving lights.
In addition to banning digital billboards or others with flashing or moving lights, other advertising signage would be prohibited on boats within 1,500 feet from shore.
Violators would be charged $1,000 for the first violation and $5,000 for each subsequent violation.
Gov. Andrew Cuomo still has to sign the bill into the law.
Adam Shapiro, CEO of Ballyhoo Media made the following comment of the legislation:
"Banning our company is a troubling example of government overreach and we're confident that the governor will do the right thing and veto this misguided legislation."
Richard Rothfelder, of Rothfelder & Falick has previously weighed in on the subject as a followup to our March Insider post.
---
Paid Advertisement