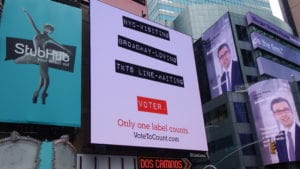 OOH PSA Campaign Reaches Rival Audiences in a Politically Turbulent Year
February 27, 2017 (Washington, DC) – A recent out of home (OOH) advertising campaign aiming to increase voter participation in the 2016 Presidential election demonstrated OOH's ability, especially when connected with digital media, to contextually and geographically target and engage audiences. A new report released by the Outdoor Advertising Association of America (OAAA) found Vote to Count, an OOH public service campaign, drove digital engagement with localized, timely, and culturally relevant messaging.
Featuring more than 125 different combinations of labels representing diversity of the American electorate, the campaign reminded citizens that while labels matter, only one counted on Election Day: Voter. The ads drove people to VoteToCount.com, where users could register to vote in their home states and create custom voter labels to share on social media. More than 65 percent of traffic to the site was direct visits.
"Most people who visited the Vote to Count website typed the URL directly into a browser, proving OOH does indeed drive digital engagement," said Stephen Freitas, OAAA Chief Marketing Officer. "And with hundreds of thousands of social media impressions, we saw the campaign stir emotion and at times create controversy."
In many cases, labels were customized by market and neighborhood, relating personally to residents. Digital OOH allowed for swift, timely messaging changes following presidential debates and during special events such as live political broadcasts or conferences. During Advertising Week in New York, the campaign targeted attendees with labels specific to media professionals. Digital billboards in Times Square featured custom labels for individual tourists.
"Vote to Count tapped into a market's local character, bringing to life a unique sense of culture," said Freitas, "The campaign paired content with context in the most familiar ways possible, targeting audiences near sports arenas, popular restaurants and attractions, and other local landmarks, offering audiences a personalized experience."
The campaign was featured in 20 markets on nearly 2,500 OOH faces, both digital and printed, including billboards, transit ads, bus shelters, Times Square spectaculars, bus ads, digital place-based screens, and more.
The campaign was made possible with donated funding and resources from OOH media companies, suppliers, and the Foundation for Outdoor Advertising Research and Education (FOARE).
For a copy of the full report, please contact Nicole Randall at nrandall@oaaa.org.
OAAA is the national trade association for the out of home (OOH) advertising industry. Founded in 1891, the association represents more than 90 percent of the US industry based on revenues. OAAA is dedicated to leading and uniting a responsible OOH industry committed to serving advertisers, consumers, and communities. The OOH industry generates $7.3 billion annually in ad revenues and donates more than $500 million in space each year. For more information, please visit www.oaaa.org.
---
Paid Advertisement