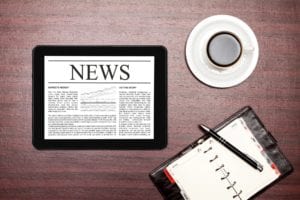 Next time someone tells you that out of home doesn't work, send them this New York Times article. Two sons rented an Interstate Outdoor billboard on the Black Horse Pike highway in New Jersey for $2,000 for one month encouraging people to call their father to wish him happy birthday.  The prank worked amazingly well.  Their father has gotten 20,000 phone calls and thousands of texts.
Lamar's Director of Digital Growth Ian Dallimore tells Vistar Media's blog that the future for digital out of home looks bright due to a "mix of data science and creativity…"   Lamar is using 4 DSP partners to help build its digital business.  Insider guesses they are Adomni, Vistar, Adquick and Milk Money.  What's your guess?
Billboards have great power because they get amplified by social media, writes The Fashion Law in The Beauty of a Billboard in the Age of Instagram.   Spotify's global executive creative director Alex Bodman say out of home "has become a social channel, and we trust that if the creative is compelling enough, people will do the work of amplification for us."  Good creative still sells.
Motley Fool has a bullish piece called Getting to Know Boston Omaha.  Some quotes from the article:
On Boston Omaha's billboard business
Billboards is one of the few places in advertising that's actually growing and becoming more meaningful and it works very well. We know what's happened to newspapers and magazines and some of those other places, but billboards have held up very well."
On Boston Omaha's acquisitions strategy:
The billboard business is going to be lumpy because it's going to be fueled by acquisitions. Usually, their model is, somebody who's been in this business, they own a decent amount of billboards, a family member dies or they need liquidity or they're retiring, and these guys come in and say, "Hey, we'll buy it." Those deals come up when they do. This is a fragmented market. They can't predict when that's going to happen.
---
Paid Advertisement