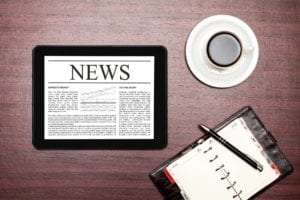 The Daily Tar Heel reports that a couple of University of North Carolina students have started a company to recycle billboard vinyl into wallets, purses and backpacks.   One used billboard vinyl makes 200 bags.  The North Carolina students aren't the first ones to get the idea. Rareform, the Los Angeles based, Sharktank-funded company has been repurposing billboard vinyl since 2014.  Insider interviewed Rareform's founder Alec Avedissian in March 2016.
A Los Angeles city councilman is trying to ban the digital billboards atop Firefly taxis.  Firefly's drivers are upset because the billboards add $300/month to their pockets.   Uber is sitting this dispute out because it doesn't have digital billboards on top of its cars.
Augie Schober, the co-owner of Schober Outdoor was interviewed for 5 minutes by Milwaukee Community Journal.  His advice to someone who wants to start an out of home company?  "You got to jump in with both feet.  You just can't haphazardly start out slow…for us to do this there was many years where I would sleep in a car and every third day sleep in a hotel.  Because the money just wasn't there…"  Augie's doing something right because his company has a large plant in Milwaukee as well as 9 other states.
---
Paid Advertisement