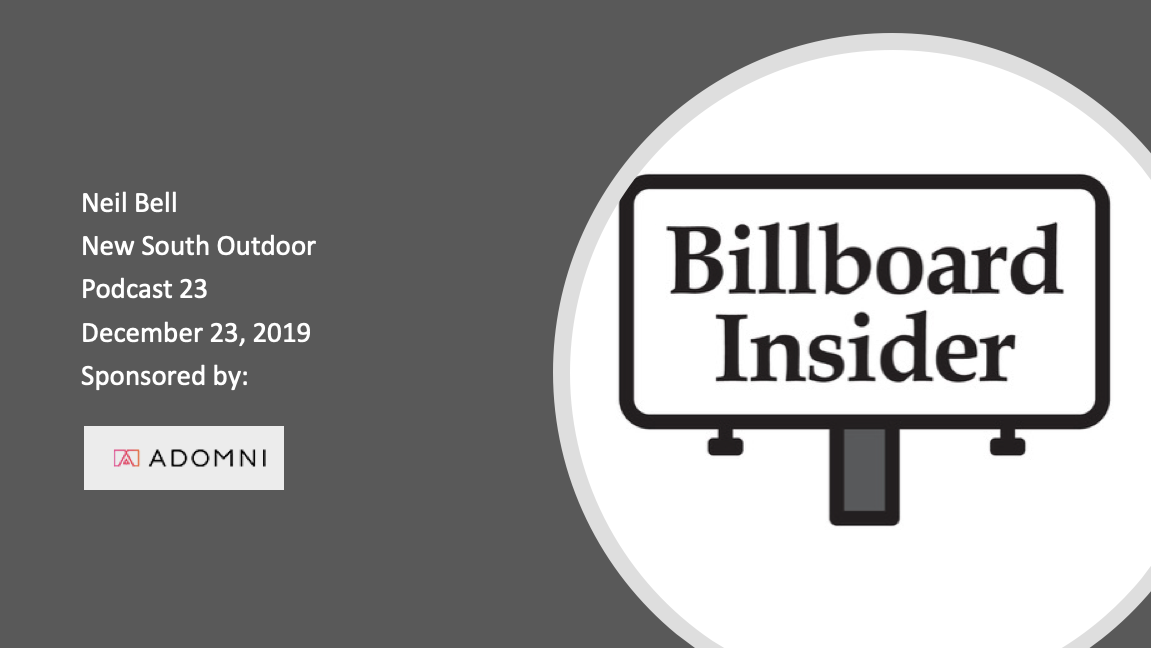 Today's podcast guest Neil Bell worked for Lamar and Watchfire before founding New South Outdoor, an independent out of home company in Alabama.  He talks about finding sites, selling ads and the leading software tool which boosts his company's profitability.
Podcast: Play in new window | Download (Duration: 21:05 — 29.0MB)
Subscribe: Apple Podcasts | Android | Google Podcasts | Stitcher | TuneIn | Spotify | RSS
Some highlights
What have you learned about securing new locations in 19 years in the out of home business?
I love it…It's like a puzzle, right, cause there's state and local rules and height restrictions and what I've found is that restraints make you become more creative…I've learned that creativity is a big part of leasing…Another thing I've learned – I don't really care to buy leases from folks that are just out there leasing.  I'll tell you a story.  One of the first one's I bought.  I bought the lease.  The sign crane showed up to put the sign up.  And the landowner says, "Hey, great to meet you, when are you guys going to build my fence?  The guy who leased me the property said you were going to build me a fence with the sign."…New site locations, finding and leasing and building is the best part of this business for me.
Talk about your Tiger Tail billboard in Auburn Alabama.  A great way to harness loyalty to a local university to build your out of home company.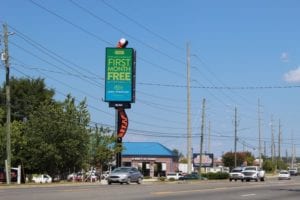 This is another one of those where we had to get creative.  We had to get creative.  There were a bunch of trees.  I wanted to build a 14 by 48 there, but half the sign would have been covered up.  And so the idea was let's build it vertical…It just looked kind of plain.  This was on the main stretch going into Auburn University.  A college street.  I'm an Auburn grad…so we came up with a backlit can of a tiger tail running up the bottom of the LED and coming out of the top.  And it lights up at night.  And it looked great.  I'd like to do more embellishment type things for these landmark displays.

How have you used cloud-based software to run your business?
Quickbooks has been a big one for us.  One thing I can say that's been probably more impactful than I expected has been e-sign…Especially with digital boards…as soon as the contract is signed we're ready to go up…In the past we'd email it to them and they've got to print it out and we've got to go by there and get them signed.  So you lose a day or two.  It just seems like it happens that way.  And the e-sign, we're able to send it and they approve it and get them up that day…We use google docs a good bit…For content we use the manufacturers software…all my boards right now..are Watchfire. As far as the inventory and contracting software we use there's a little company called Signdash that has just rolled out some great software that we're really happy with.  It does a lot of what these other inventory software managers do.  It doesn't necessarily have all the bells and whistles that you find with the other companies that are out there but what I find is that we don't really need all that.  I know that my sales people like it.  They can see what's available.  They can see what's been proposed.  Once they get to yes they can send out an e-sign for a contract and it comes back pretty quick.
---
Paid Advertisement