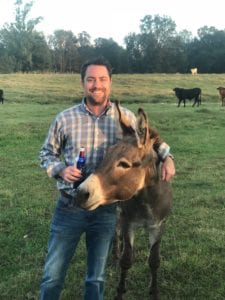 Atlanta is going some amazing things with digital billboards and Formetco is on a roll in Atlanta.  Insider talked to Formetco's Britt McConnell to learn more.
Britt, what do you do at Formetco?
I manage the digital sales for the Southeast, North Central US and Puerto Rico.
Tell me about the new sign district in Atlanta.
It's unique.  They don't want standard digital signage.  The bright lights committee is not just granting anybody a permit.  It must be something that's going to be aesthetically pleasing like spectaculars, verticals…outside the box thinking.  The original plan was to have permits issued and things starting to happen before the Super Bowl. Unfortunately, since this is an all new concept for the city, we kind of missed the window there.  You'll see even more new signage before too long.
Formetco has a supplied number of high profile signs in Atlanta.
We are a local family owned business that invests and takes a lot of pride in our hometown.  Businesses in town like to work with a local supplier.  I personally know the local ordinances for all local municipalities and DOT regulations.  Permitting is a fun task for me and it's nothing for me hop in my truck and meet with the city of Atlanta or any other city on permit issues within a matter of 30 minutes.  Atlanta is our showroom, so we like to make sure it's always looking its best.  Whenever clients come in town to tour our facility, we can just hop in a car and show them that every large format and spectacular is a Formetco install.  It doesn't hurt that a good majority of the digital billboards around town are also Formetco.  The best part is that no subcontractors are needed for service.  It's our own in-house guys, meaning operators are not at the mercy of the availability of a third party.
Cobb Galleria has two 25 by 48 faces and one  9 by 48 face
They used to have an old marquis there.  Basically, a trivision and a smaller LED.  It's right across from the new Suntrust Park where the Atlanta Braves play.  They said let's do something iconic and something out of the box.  It's a three-sided board, pretty much seamless all the way around.  Each face acts independently.  The other really neat feature is that the structure has this internal LED lighting…It's really unique.  We were honored to have been chosen to be part of such an amazing sign.  For more info see this link.
Georgia State Stadium is a big one.
These amazing 30×50 16mm's are located just outside the old Turner Field, which was recently converted to the new home for Georgia State's football program.  They wanted to go bigger, bigger, bigger.  To put that sign into perspective, when you look at that picture on the top where it says Georgia State – that's a 10 by 30.  Underneath at the very bottom where it has the logo that's a 12 by 24.  They truly are amazing signs right into the heart of Atlanta…another wonderful project to be a part of.
Georgia's Own Credit Union 
Wow, first and foremost I am humbled and honored to have been a part of this Iconic signage that is 20 by 174 and on both sides of the building.  That was a fun and exciting project.  For years everyone in town referred to the landmark building as the Equitable Building, due to the preexisting signage.  It's part of Atlanta's skyline history.  Georgia's Own Credit Union took over the top floors of that building for their new corporate office and they wanted to do something big!  They had this vision…let's wrap both sides with a digital board and let's change the Atlanta skyline as we know it.  As you can imagine this was no easy task.  This install took an amazing collaborative effort from some of the best local businesses.
From start to finish it took around two years and 7 months.  There's a lot of things that you must do differently when you're almost 500 feet in the air.  One of the challenges was how to deal with ice buildup.  What if ice built up and it fell and hit a pedestrian?  In order to combat, we used special trim on the top and custom catwalks.
There were safety meetings every morning.  The project was on the news.  The steel for that project was flown in with Sikorsky helicopters.  We did both sides simultaneously.  They can change the content once a day, at midnight.  Georgia's Own has been amazing to work with.   A great example of the dynamic use of the displays were when the Atlanta Hawks were drafting they were showing the names of the players selected.  When the super bowl was in town, they did a twitter poll of who was going to win.  A lot of local organizations and community outreach is done with these.  You can get a little more about this project here.
Tomorrow Britt will talk about The Atlanta Sign, The Whiteway/Delta Digital boards and the Allen Plaza digital billboard.  You can watch a short video of Formetco's high profile Atlanta billboards here.
---
Paid Advertisement