Insider's favorite articles are ones initiated by our readers.  This interview comes by way of a conversation with Kevin Payne, President of Out of Home for Circle Graphics.
At the OAAA convention Kevin had just finished a conversation with Nancy Fletcher where she indicated that while there was a lot of recent progress, there was still room for more women in Senior Leadership roles in OOH.  Kevin mentioned to Insider that it would be terrific if we could do an article on Jennifer Gettman who has a significant leadership role in their organization.  Insider agreed with Kevin so here is my conversation with Jennifer.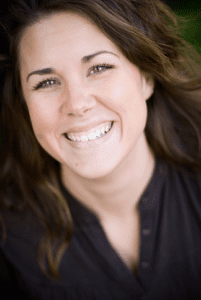 Jennifer, what is your title and responsibilities for Circle Graphics?
I am currently Vice President of Operations for OOH at Circle Graphics' Longmont, Colorado Headquarters facility, the largest of the 5 total Circle Graphics facilities.
At the Longmont facility, there are about 250 employees involved in the OOH printing operation. The Longmont facility operates 24/7 and between all locations produces 60 -70% of the billboards created in the U.S.
Walk me through your work experience and the path you have taken at Circle Graphics?
It has been an interesting journey for sure.  I started as a stay at home Mom, focused on raising our two children. When it was time to get out into the paid work force, I initially worked three years in fulfillment in the warehouse of a local cosmetics company.  From there I started my Circle Graphics career in 2006 in the order entry department, mostly working with "faxed" orders from customers. After about a year, I transitioned into account management focusing on our national brands and agency orders.
In 2009 I traded in my account account management role for a pair of steel toed boots and overalls and took a job as a Quality Control Auditor out on the manufacturing floor.
Was the move from Account Management to QC Auditor considered a lateral move or a promotion at the time?
It actually was a step back in terms of normal company growth, but I was very interested in the manufacturing side of things and I knew that I would be happier at the end of the day being more hands on with the products that we deliver.  After about 9 months I was promoted to a QC lead which led to three years as a QC Manager.  Ultimately the Company gave me the opportunity to manage our high resolution operation, which I did for a year, until they offered me the opportunity to manage the "whole enchilada", the Longmont production facility.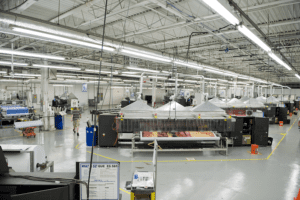 Was it a difficult transition for you to manage such a large manufacturing operation?
It is a unique opportunity, as a woman, to be running a large manufacturing facility. I have been in my current role for a year and a half. I think my experience of having worked on the floor as well as my time in account management has made the transition easier with my new responsibilities.  I worked hard to build trust with everyone on the production floor and we all have a lot of mutual respect.
I would imagine over the years, technology has changed the way Circle Graphics does business?
Fast forwarding to today, we don't even have a fax machine on site, to my knowledge. The customer has the opportunity to order any way they want – online, API, etc. The uploading of art is an efficient process virtually with a click of a button. Technology has also increased how fast we can process files on a daily basis, with our digital work flow we can get customer approvals in a matter of minutes.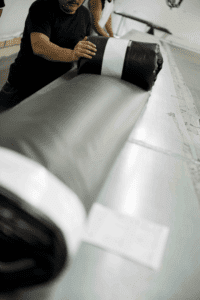 What are the key performance indicators you focus on as you manage your department?
First, is always that we have a huge focus on safety. We want to be efficient, but we want the manufacturing floor to be as safe a place as possible. Second, is field quality. We review and evaluate field concerns on a daily basis. Third is on-time shipments, meeting customers expectations.  Recently, we have a new focus on what we call velocity. Regardless of whether we are shipping product on the date a customer expects, we want to exceed those expectations.
Are you seeing the growth in digital billboards having any impact on your business division? 
Digital billboards do have an impact on us, but it's not negative, in fact we are continuing to see growth in our traditional billboard division. Embracing the advancements and recognizing the importance of staying relevant within the industry has inspired us, as a company, to identify new products and applications that allow us to grow and support the industry as the landscape changes.
Insider Note – We think it is very worthwhile to continue highlighting women in senior leadership throughout the OOH industry.  Have someone you think we should interview?  You can let us know in the comment box below.
---
Paid Advertisement