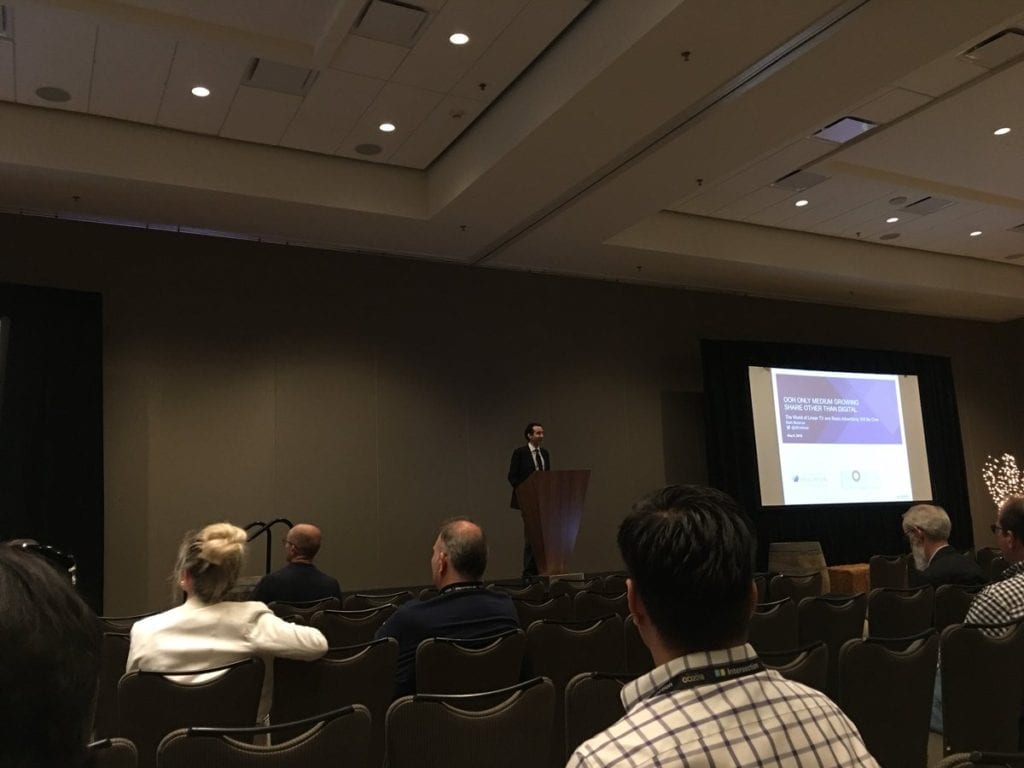 PJ Solomon investment banker Mark Boidman gave a fast-paced talk on the strengths and risks of out of home at the May 7-9 GO2018 conference.  Here's a summary.
Out of Home Strengths
The big audience.   Out of home is the only form of media which can deliver an unsplintered audience.  TV in particular has fragmented.  A prime time show or TV event does not deliver the viewership it used to due to the proliferation of TV channels and cord cutting.
Projected growth.  Out of Home is the only form of media which is expected to grow in the next four years because technology is a friend to out of home and an enemy to most other media.  Digital billboards and smartscreens will drive revenue.  Look at this slide.  Out of home is projected to grow 4%/year over the next five years.  Newspapers, TV, radio,  magazines and directories are projected to decline.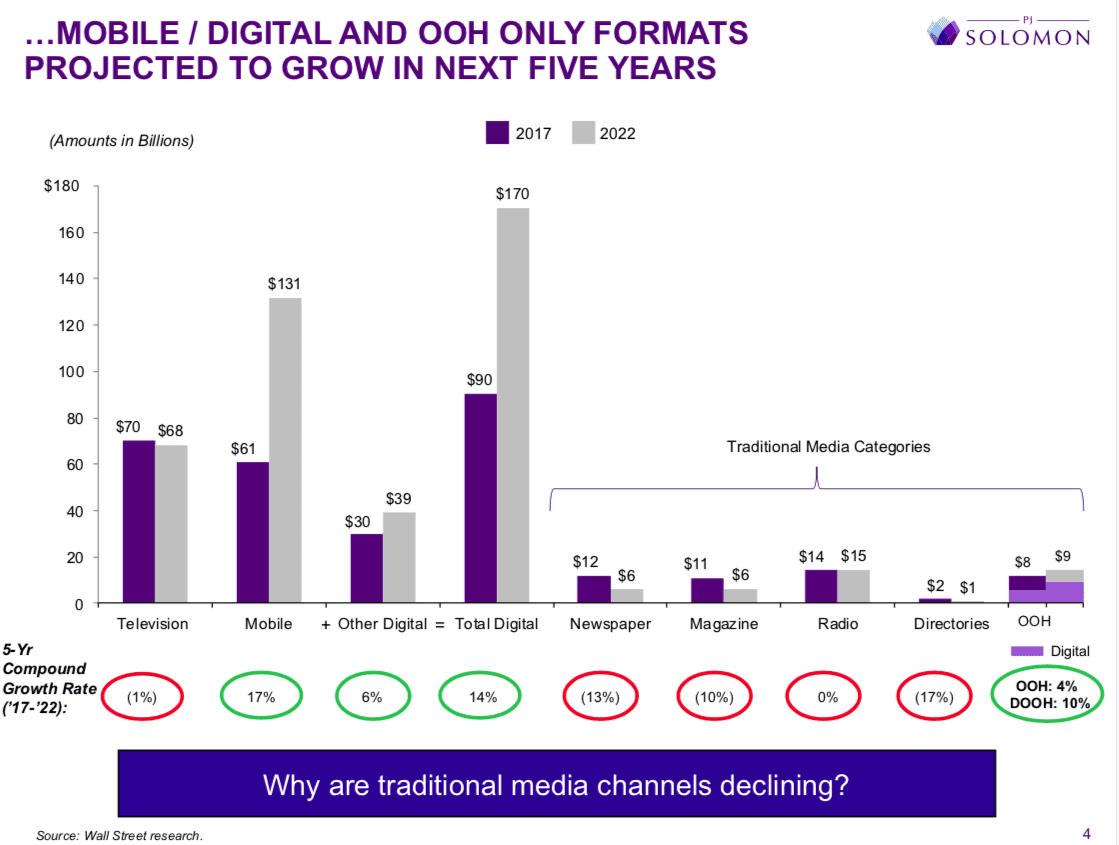 Out of home overindexes with top brands. Google and Apple are spending 9% of their advertising budget on out of home while the average for all US companies closer to 3% on OOH.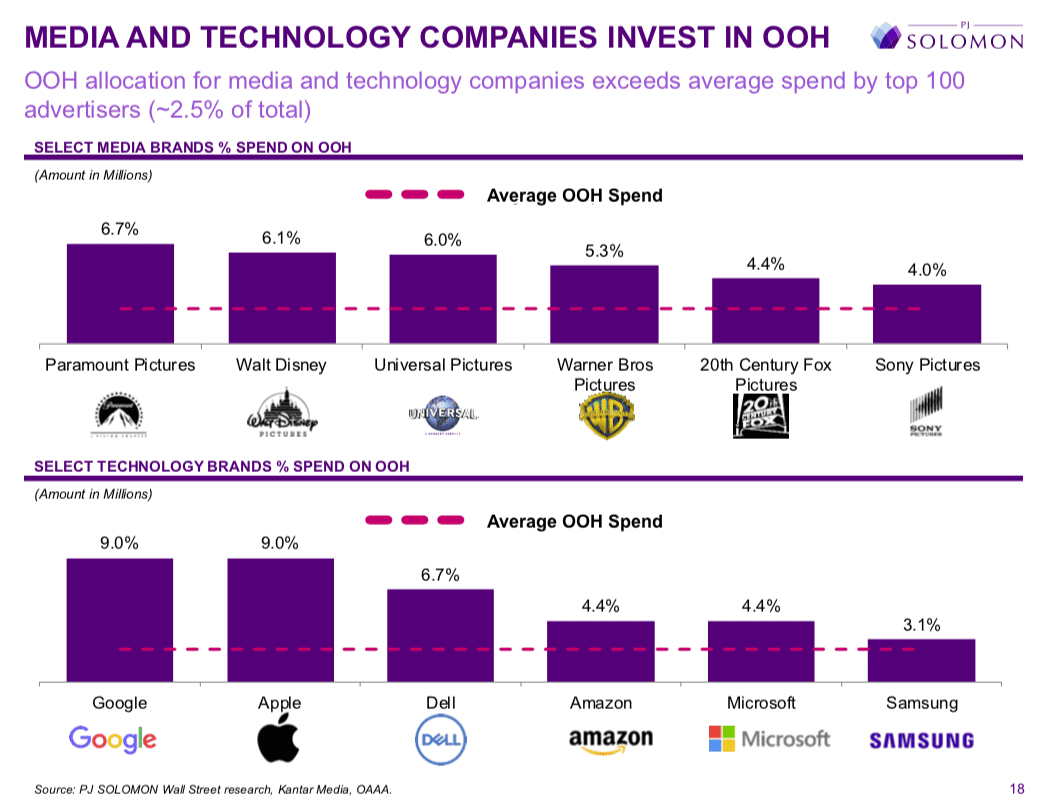 An M&A boost.  Boidman said that legacy media firms are interested in out of home because it's growing: "We think other media firms by get into OOH because their existing sales force can handle sales.  We got a call from a legacy broadcaster two weeks ago which wanted to reenter out of home."
Out of Home Risks
Slowing growth.  Out of home has traditionally been a GDP business.  A 1% rise in GDP means a 1% rise in revenue.  This may no longer be the case.  The out of home industry has grown at only half the rate of GDP over the past 18 months.  Magna and Wells Fargo Securities project out of home revenues will grow at half the rate of GDP over the next six years.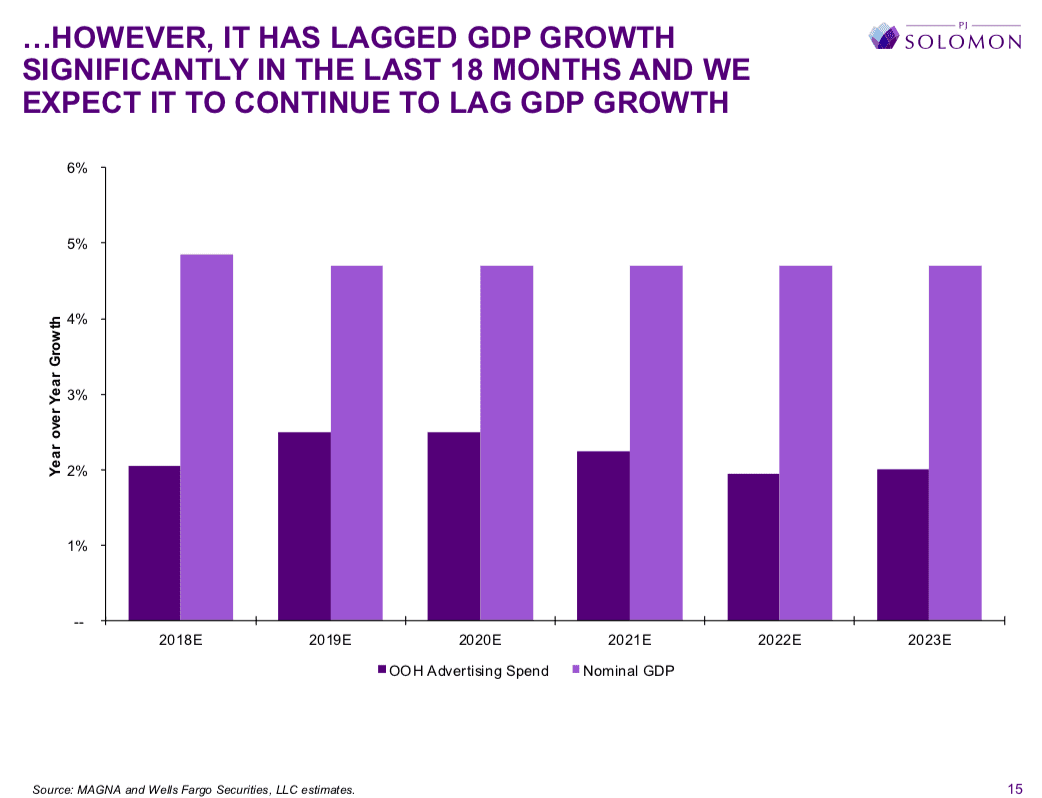 Cannibalization.  A proliferation of digital screens, smart screens and smart city screens could cannibalize existing sign revenues as opposed to expanding the market.  The industry may need the next big thing.  Boidman suggested the next big thing might be automated buying or mobile ad retargeting.
Autonomous vehicles present a long term risk for the industry.  Boidman estimated that is would be 20 years before autonomous vehicles are deployed.
Leverage.  Stretched balance sheets may limit the ability of Out of Home companies to take advantage of growth opportunities.  Boidman specifically cited Clear Channel Outdoor.  He estimated that debt capacity is 4-5 times cashflow (EBIDTA) times for the public companies and 7-8 times cashflow (EBIDTA) at private companies which may be able to take advantage of securitizations.  Insider questions whether 7-8 times is sustainable for anyone.  Just because you can doesn't mean you should.  When leverage is that high your revenues must grow rapidly in order for you to be able to repay your debt without defaulting.  You never want to be in a position where you have to grow your revenue – or die.  Insider will write more about this later this week.
Difficulty proving ROI.  It is difficult to prove out of home ROI.  The data isn't as strong for out of home as it is for online ads.  Boidman said the industry is making strides however.  Insider notes that ROI is a major emphasis for the OAAA during the next year.  Another reason why you need to be an OAAA member.
Here's a link to Boidman's slide deck.
---
Paid Advertisement