To celebrate the release of Republic Records' artist The Weeknd's third studio album, STARBOY, the label collaborated with experiential agency OOHA Wilkins Media to launch a never-before-seen activation at the Hollywood & Highland Shopping Center, Los Angeles, in the wee hours of Black Friday.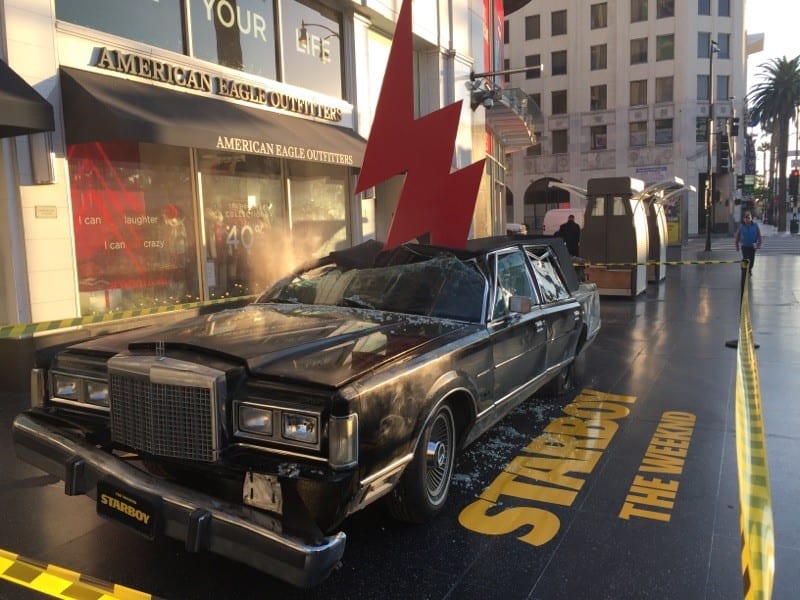 This unique, social media-ready stunt created for The Weeknd's STARBOY album is dazzling fans, tourists and motorists alike at 6801 Hollywood Blvd. for three days through Sunday, fittingly just steps from the Hollywood Walk of Fame.  
Using an iconic element from the album artwork, a red glowing 10' lightning bolt crashes into a vintage 1985 Lincoln Town Car to announce the arrival of the much-anticipated release.
The custom activation is viewable from 8 a.m. – 10 p.m. each day and features special effects such as smoke, lighting, and, of course, tracks from the new album.  While fans of the two-time Grammy-winning artist will not be able to go for a ride in the custom vehicle, they will be able snap selfies in front of the display and learn first-hand that lightning does strike three times!
OOHA/Wilkins Media is an awarding winning independent OOH and Experiential agency with offices in New York, Los Angeles, Chicago, Milwaukee, Hartford and Minneapolis.
Republic Records is an American record label and a division of Universal Music Group.
---
Paid Ad